Amazing Lace: Elie Saab SS/10 COUTURE
Elie Saab stuck to his forte this season and did again what he truly does best and this time there was no fussyness on the hair, make-up and jewellery – it was all about Girl and Dress. We saw magnificent floor-length gowns sweeping down the runway in intricate lace on light gorgeous fabrics and shades. The detailing was impeccable and added a wow factor to the stunning evening dresses. Embellishments ranged from crystals, sequins, embroideries and delicate ruffles layered on the gorgeous lace – It was a soft but very romantic and elegant collection and fell perfectly in sync with Spring/Summer's current rhythm.
His show of cocktail dresses after evening dresses presented a range of styles in a palette of pale, wash-out colours from powder pink, yellow, peach and beige to ivory, olive-green, lavender and baby blue. We absolutely adored the petal-embroidered over-piece with a little train following closely behind and the short cocktail dresses with the boleros were simply divine. Also on our lust list were the draped, slit bustier dresses showing a flash of lace and the multi-coloured crinolined strapless ball gown was like a gentle breeze.
With lace strongly prevailing on through 2010, we just couldn't help but share our best picks with you – and if you are off to a fancy ball, black-tie event or classy soiree sometime soon, take your pointers and inspiration from Elie Saab and know you can never go wrong. Aim for nothing but perfection and go after that Superstar effect.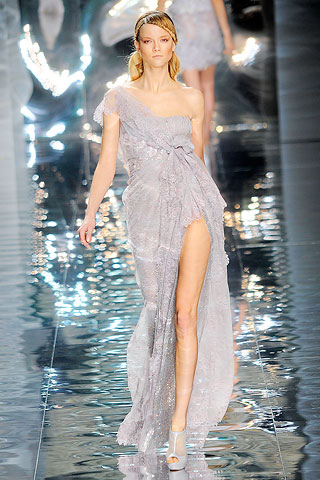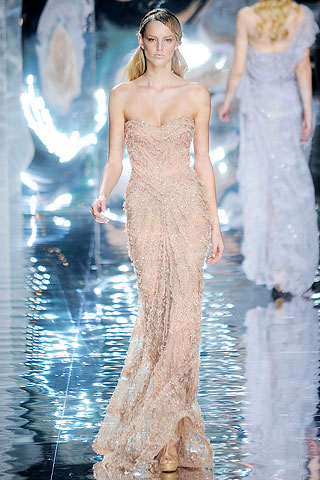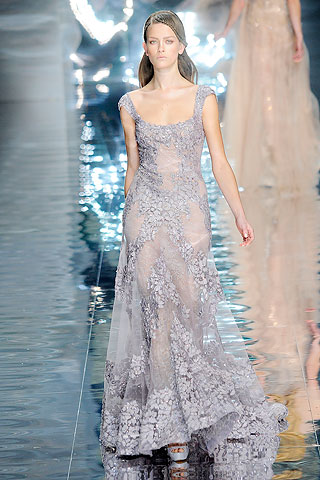 Post by Olivia Usai