Colour Blocking: ALEXIS MABILLE SS10 Couture
Two halves don't always make a perfect whole but in the case of Alexis Mabille's SS/10 Collection, it seems to have worked pretty well. His show kicked-off with the first model walking down the runway in a half black and half pink suit accompanied by hair and shoes styled in the same format.
This bi-colour theme continued throughout most of the collection moving next into black and red, then grey, blue and yellow. Later-on we saw a short skirt and shirt look, tunic dress with the black along the sides and the grey running down the middle making it appear as though the girl was wearing a coat over her dress – his colour blocking technique for this particular piece and a few others gave an illusion of many pieces in one – it was truly fascinating.
Mabille's favourite signature 'the bow' later-on featured in his black and grey combination and again scattered round the neckline of a svelte little black cocktail dress in daffodil yellow. The collection displayed other graphic shapes in the form of cut-outs and a mix of colour blocks and then advancing into more red carpet-ready gowns towards the last quarter of the show.
Mabille's evening wear was discrete but sophisticated and dazzling in an almost effortless and laid-back way. Best were a classic, long-sleeved black sweater with a spruce Peter Pan collar, belted and adorned with crystals creating a dramatic effect when paired with the black silk faille trained skirt, we also loved the long black sequinned evening dress with white sheer sleeves and collar and the black ball gown with contrasting bows nicely wrapped as sashes around the hips.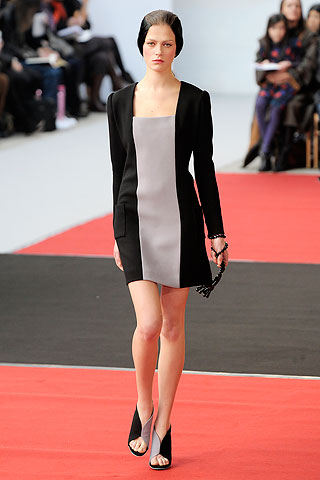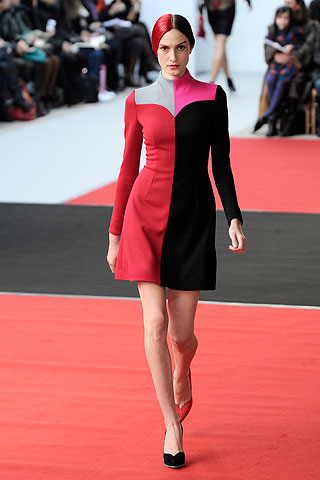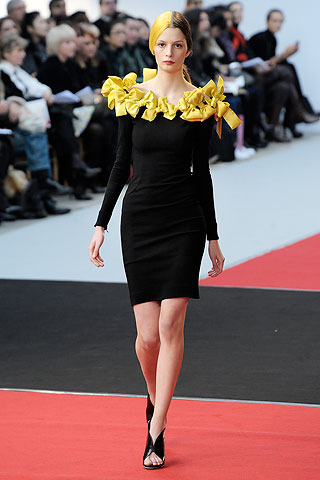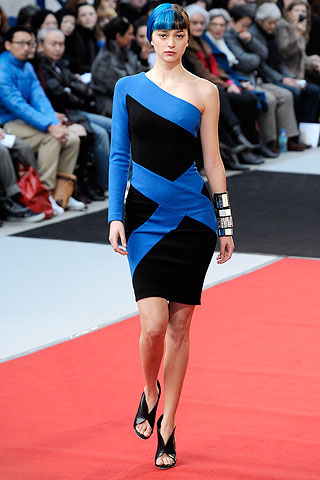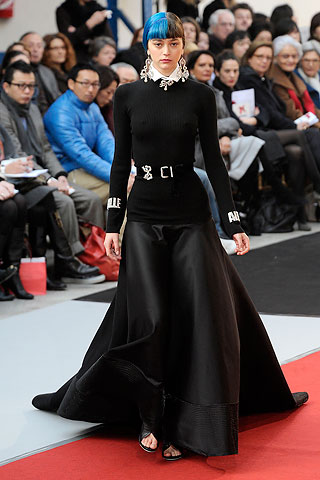 Post by Olivia Usai