LFW A/W10 The Story so far…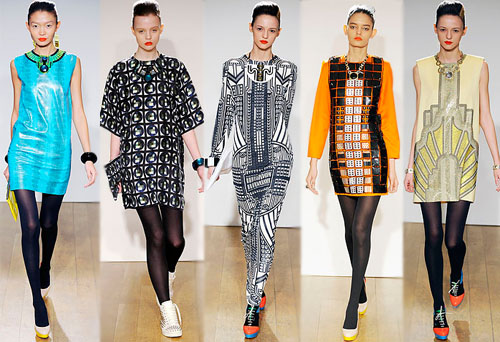 HOLLY FULTON
Holly Fulton's collection featured bright, chic, optimistic geometries with her signature heavy embellishments in the form of supersized crystals and stones on dresses and jazzy, matching accessories. Her design style is distinctive and though still quite new on the scene, Holly has already began to make a name for herself in London. There was not a single piece of the collection that we didn't like, all the dresses were so unique and fashion forward. We loved her mix of suede, furs and snakeskin and the fur clutches with crystal fastenings were remarkeble. The collection was a very impressive start for a young designer and there is no doubt that there will be plenty to come next season that will have us reaching for our purses.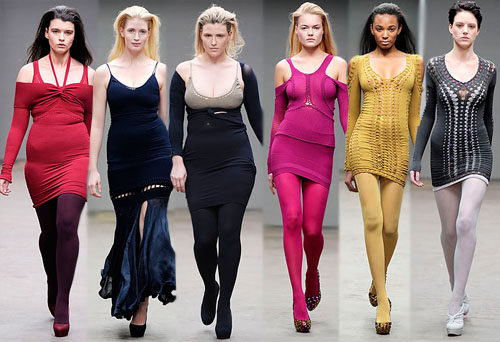 MARK FAST
Mark fast is still going strong with his campaign to use Plus-size models. This season for his collection named 'Faster', he used a few plus-sized models including Hayley Morely who walked for him on his previous collection. For his A/W10 collection, Mark Fast presented stretchy underwear and body-con dresses in a variety of shades and styles. From a beige silk poncho dress and a cranberry suede skirt and jacket to waterfall scarf trails and flippy skirts in viscose knits, we appreciated Fast's efforts to re-invent his designs and fork-up something that was a bit different from what we have seen before – after-all, body-con and knitwear are his specialty. However, we do appaud him for his continous use of plus-size models, it at-least shows some integrity and proves that he is following through on his goal of making women of all shapes and sizes feel confident and beautiful.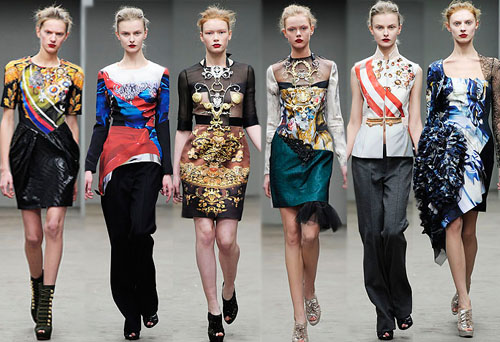 MARY KATRANTZOU
Print and textile expert Mary Katrantzou gave us something a little different this season and her attempt to break away from her usual simple silhouettes was quiet evident in the contruction of a number of pieces that showed-up later-on in the collection. Of-course Katrantzou stuck to her signature digital prints, but at the same time we saw something new. She merged photographic images of lace, jewels, medals, sashes and scarf prints and she sculpted some of them into shapes that resembled parts of military jackets. The printed vest-jackets, Napoleon 'esq coats and frothy frill-front shirt and dresses added weight to her proposition.
Katrantzou found a way of incorporating unfamilliar techniques in her collection; only on a hand-full of dresses and somehow it worked. We felt it added more character to the clothing in an interesting new way and more importantly it softened up the silhouettes a little from the usual sharp-angeled geometrics that we have so gotten used to and love. Hopefully Katrantzou will continue to move forward in this direction to keep things fresh and interesting as season-after-season of the same old digital prints won't be able to cut-it for too long. We feel that she may already know this hence her attempt to try-out new shapes and textures so bravo for that.
Post by Olivia Usai