All That Glitters: Girls Night Out Dresses
Wednesday means half way to the weekend…Have you got your girls night out dress yet? At Girl Meets Dress you can hire occasion dresses, going out dresses,and even girls night out dresses with just a click of a button. So if your out for drinks or having a girls day out Girl Meets dress can help you hire the perfect fit. GMD are loving this seasons hot metalic trend,  so here's our top picks of how to rock  this trend on a girls night out.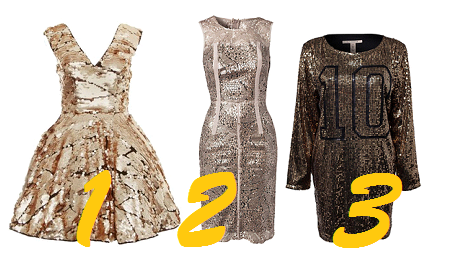 1-Â Â OPULENCE ENGLANDÂ / Gold Sequin Prom Dress
This Dress is the perfect mix of gold fabric and a cute 50's style dress, the cinched in waist and full skirt make this the perfect dress for any night out.
2- Â Â IN WEARÂ / Violai Dress
This Violai dress  has the classic shape with a metalic edge, the dress creates an hourglass silhouette and the added flecks of metialic create a fun and youthful take on a classic dress.
3- Â Â NLYÂ / Sporty Deluxe Dress
This NLY Dress is right on trend, the playful mix of sports lux and metalic make this a must have item for any event.
Don't forget to follow us at  @girlmeetsdress and keep up to date with our blog by clicking here