Bridesmaids Dresses
Being the perfect bridesmaid also means finding the perfect bridesmaid dresses. At Girl Meets Dress we have a wide range of bridesmaid dresses from the UK for you to browse. Every bridesmaid wants to shine in the spotlight and choosing the perfect dress is key, but don't worry Girl Meets Dress has a large collection of  dresses from cute pastel tones to vivid purple bridesmaid dresses. Here are our top styles for Bridesmaid dresses direct from GMD HQ.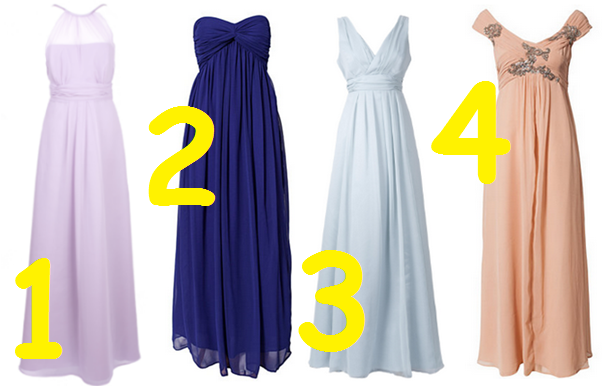 1-Â Â MAIDS TO MEASUREÂ / Catherine Gown Lilac
This Pastel lilac shade is perfect for a cute and summery wedding and the sheer detail at the neckline adds a subtle feminine touch.
2-Â Â NLYÂ / Dreamy Dress Blue
The deep blue hue of this dress will compliment many skin tones and the knot style at the neckline and long flowing fabric creates a beautiful silhouette.
3-Â MAIDS TO MEASUREÂ / Lisette Gown Mint
This dress is a fun take on the more traditional style of bridesmaids dresses and paired with the lovely pastle blue shade it makes the perfect bridesmaids dress.
4-Â Â NLYÂ / Luna Dress Dusty Pink
This romantic dusky pink dress is anything but plain, with its intricate detailing and soft pink hue its sure to get  you noticed.
Don't forget to follow us at  @girlmeetsdress and keep up with our blog by clicking here