GMD Top Wedding Dress Picks
The Bride's dress is an important part of any wedding, At Girl Meet Dress we know that every bride wants to look her best on her big day. If you are looking for short wedding dresses or  lace wedding dresses Girl Meets Dress can help you. Finding the perfect wedding dress can be a struggle, but at Girl Meets Dress we have an exclusive collection of wedding dresses from the UK  for you to hire. If you are looking for Wedding inspiration and ideas GMD has a large selection of wedding dresses new for 2014. Here are GMD HQ's top Wedding dress picks.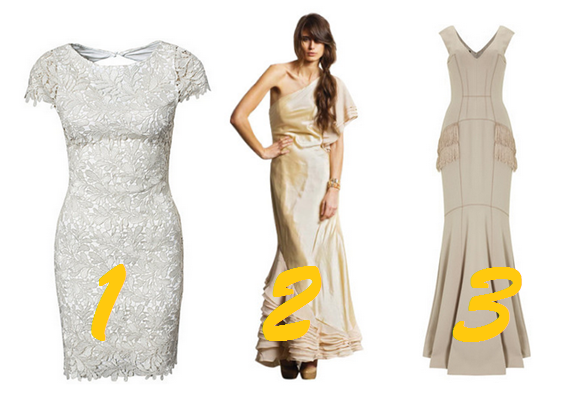 1-Â Â ALICE AND OLIVIAÂ / Clover Lace Dress
This elegant dress is a great alternative to the traditional long wedding dress style, the romantic lace overlay is perfect for any bride wanting to wow at the alter.
2-Â Â AMEE LOUÂ / Violet Dress
This Violet Dress is the perfect dress for a bride, with it's satin style long flowing fabric and off the shoulder design.
3-Â AMANDA WAKELEYÂ / Niara Scuba Gown Sand
Amanda Wakeley never disappoints when it comes to dresses and this piece is no exception, the long fabric elongates and flatters the figure and the unique design is sure to capture the attention of your congregation.
Don't forget to follow us at  @girlmeetsdress and keep up to date with our blog by clicking here
Posted June 11th, 2014 in
Features
. Tagged:
bride to be
,
hire
,
how to wear a wedding dress
,
lace wedding dresses
,
long dresses
,
long gowns
,
wedding dress
,
wedding dresses
,
Wedding dresses 2014
,
wedding dresses UK
,
wedding hour
,
wedding ideas
,
what to wear
,
white dresses
.