NEW SAMPLES: DIVINE CHOCOLATE
At Girl Meets Dress you know how much we love finding new amazing products. We have just confirmed partnership  with the most delicious chocolate from Divine Chocolate, when you hire an outfit from Girl Meets Dress!!!
Introducing Divine Chocolate – a global farmer-owned chocolate company using the amazing power of chocolate to delight and engage. Divine Chocolate bring people together to create dignified trading relations, thereby empowering producers and consumers.
We have seven different flavours of chocolate from the Divine Chocolate range! Fingers crossed that you receive the Milk Chocolate with Toffee & Sea Salt bar… honestly we love it and if we could have it our way never eat anything else!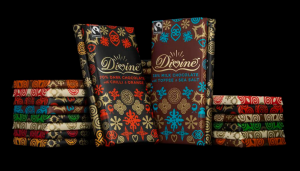 Rent a dress  to receive your FREE Divine Chocolate bar! You can find out more about Divine Chocolate HERE and about the flavours of the range that you could receive:
38% Milk Chocolate with Toffee and Sea Salt
A new recipe 38% Milk Chocolate with a dash of sea salt, perfectly balancing the sweet crunch of toffee.
38% Milk with Spiced Toffee Apple
Seriously smooth milk chocolate with festively spiced apple and a sweet toffee crunch.
39% Milk Chocolate with Whole Almonds
Smooth high cocoa milk chocolate satisfyingly studded with crunchy whole roasted almonds.
70% Dark Chocolate with Chilli and orange
Dark, rich velvety chocolate and infused with zesty orange and fiery chilli.
70% Dark Chocolate with Raspberries 
Rich 70% dark chocolate contrasted with the fruity tartness of real raspberries.
Smooth, rich, dark chocolate with the inspired addition of crispy mint pieces and natural peppermint oil.
Facebook:Â https://www.facebook.com/divinechocolate
Twitter:Â @divinechocolate