The ultimate celebrity dress hire for Lily Allen
With Glastonbury in full swing we were standing around the coffee machine this pm wondering which dress each of our favourite artists would be. With so many to choose from we thought we would narrow it down to which occassion each of our celebrities would hire a dress for and make a collection of posts every week. e.g. Lily Allen would be a sexy casual type of dress hire like Party Dresses or Cocktail Dresses … o and nearly forgot of course Celebrity Dresses as well of course.
So, I'll start this week with my favourite of them all Lily Allen:
Lily Allen: Singer
About:Birth name: Lily Rose Beatrice Allen
Born: 2 May 1985Â  (age 25)
HQ: Hammersmith, London
Recent press: Lily Allen has been very busy these past few months working on leaving the music industry behind. Press suggests she is about to start a vintage store Lucy in Disguise later this year and that Channel 4 will be filming it…so keep an ear out.
Dressing occasion: Glamour Solo Artist of the Year Award.
While her dress was very nice
Exhibit A: Courtesey of Mail Online
This other one might have really stolen some limelight – While still staying true to her long black dress theme this Dinar Bar-El > Greta Dress has been highly sought after for red carpet events already.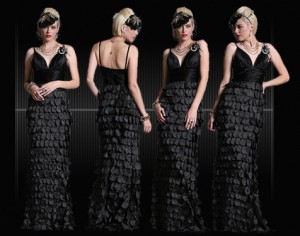 Check out the dress here >