NEW SAMPLES: Blank Canvas Eyeliner
Ladies – Christmas has come early! Thanks to our partnership with Blank Canvas Cosmetics, we're now including a free Borderlines eyeliner with each order.
WHAT IS BORDERLINES?
Borderlines is an extreme black, longwear, eyeliner. Smudge-proof, paraben free.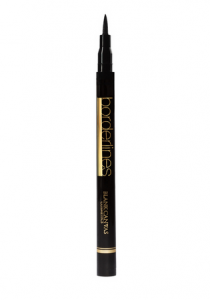 How to Use:
Eyeliner can enhance your natural eye shape with a simple line created along your lashline. It's an ideal way to define your eyes. Can be used on it's own or to add the finishing touches to an eye look. Â  Follow the natural shape of your eye.
Tip Description:Â This pen has a tapered end, perfect for easy application , creating thin to thick lines.
Artist Tip:Â Dampen an E30 angled liner brush, dip in a dark shadow and trace a line along the lid. Use your Borderlines eyeliner pen to trace over the shadow for a fool-proof eyeliner look. Â Practice makes perfect! Â Experiment with different eyeliner looks using this easy to use pen.
Formulated without parabens
Be sure to place the lid on your pen after use to avoid premature drying out.
For more Blank Canvas products, visit: www.blankcanvascosmetics.com  Twitter: @BCCosmetics Facebook: Blank Canvas Cosmetics
Posted November 24th, 2014 in
Partner
,
Partner Offer
. Tagged:
Blank Canvas
,
Borderlines
,
Dresses
,
Eye make-up
,
Eyeliner
,
Eyes
,
free
,
free sample
,
Girl Meets Dress
,
Make-up
,
offer
.