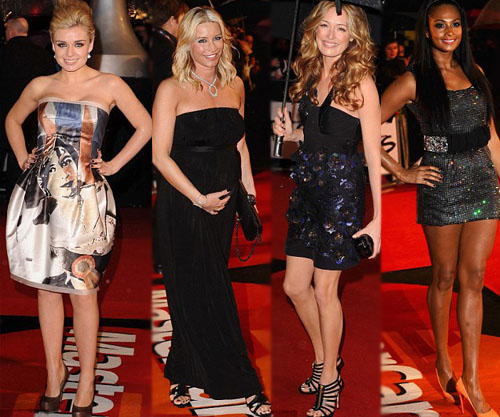 We spotted Katherine Jenkins working the Brits theme in an Alexander McQueen number adorned with the queen's portrait and union-jack – a very patriotic and fitting tribute to the designer. Mummy to be, Denise Van Outen showed-off her cute baby-bump in a chiffon black maxi evening dress; elegant and chic. We were extremely happy to have Cat Deeley back and she wore a stunning mini-dress and accessorized with zip-front sandals and a classic box clutch. Alesha Dixon looked dazzling in her thigh-high mini dress which was nipped in on the waist with a black belt with crystal detail and amazing orange heels.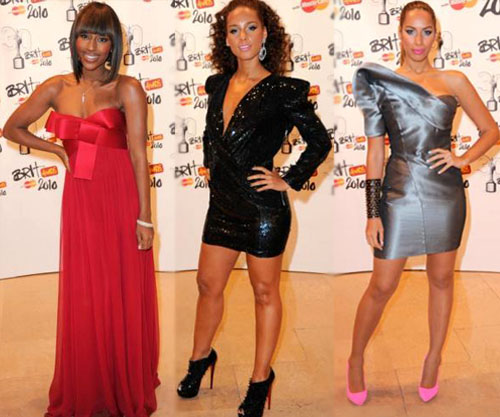 Alexandra Burke played it safe in a red floor-skimming maxi evening gown, It was classy, yes, but she would have got more attention had she had appeared in something more contemporary. Alesha Keys on the other hand looked hot in a striking black, bold-shouldered Balmain dress and paired it up with peep-toe Louboutins with Leona Lewis stepping-out off her comfort zone and rocking sci-fi chic in an asymmetric sharp-shouldered silver cocktail dress that was teamed with neon pumps.
Black lace and satin was quite a hit on the red carpet, with stars Pixie Lott, Florence Welch and Kylie Minogue making an appearance in lace detailed evening dresses. Pixie showed-off her fabulous legs in a sexy and sophisticated LBD while Florence Welch wore a long satin evening gown with an all-over-lace catsuit underneath and before that she had wowed the crowds in a barely-there metallic mini. We like!
We also loved Kylie but felt like her dress downed her a little – would have preferred something more figure-hugging or a shorter version of the dress – or maybe a simple up-do of her hair would have proved just the solution.
Other red-carpeter's who's style we liked included Gabriella Cilmi, Lily Allen who wore a daring high-neck Chanel gown, with intricate panelling and managed to scoop her first Brit last night – so proud! and Lisa Snowdon who had come in fresh from shooting her first round of M&S ads and posed for the camera's in a monochrome mini-dress. As for GaGa-style, it was nothing out of the ordinary and we have come to expect nothing less from the star However – a massive well-done for picking-up three Brits last night after a fantastic performance that was dedicated to Lee McQueen!
Post by Olivia Usai
---