Holly Willoughby, one of TV's most famous faces! The smiley face of ITV show, This Morning! Holly Willoughby is definitely Queen of style! Every morning she brings out another gorgeous outfit! This blog will feature some of our favourite looks from Holly Willoughby's wardrobe and our choice for similar dresses to hire!
Look 1 – Get the look with our Alice and Olivia, Saffron Floral Dress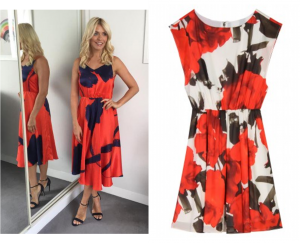 Hire a Alice + Olivia dress printed dress and look amazing with the bold abstract flowers and ladylike silhouette. This Alice and Olivia Dress is perfect for any event you may have coming up! We love it for the races, paired with  a pair of wedges and a fabulous hat! Hire a dress and get Holly's look!
Look 2 – Get the look with our Diane Von Furstenberg, Penelope Wrap Dress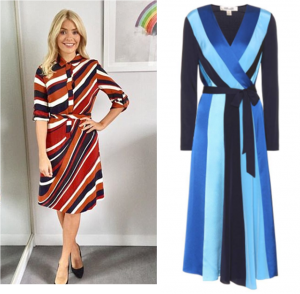 Renowned for her wrap dresses, Diane Von Furstenberg offers an update to the classic with the Penelope dress. Crafted from silk, the dress displays stripes of different texture and colour for a flattering, silhouette-elongating effect. Be inspired by Holly's stripes and hire a dress from us!
Look 3 – Get the look with our NLY, Jennifer Dress Gold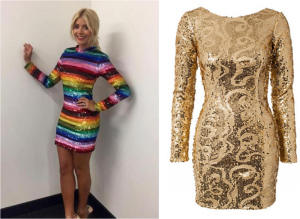 This Sequin dress from NLY. Has a rounded neckline and is open in the back with fastening at the back of the neck. It is a tight fit and very sparkly. Go all out in a sequin mini dress and hire a dress from us!
Look 4 – Get the look with our Roland Mouret, Nabis Tailored Dress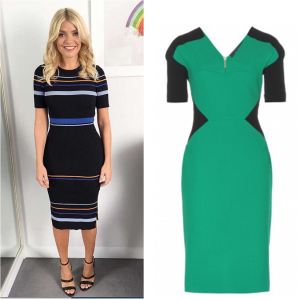 This dress by Roland Mouret shows fantastic tailoring – coloured bright green with black sleeves, this V-neck silhouette is made even more sultry with a gold-tone zip that runs all the way down the back. The perfect all round dress!
We do next day delivery or same day delivery if you live in London, for all orders placed before 1pm, so its not too late to hire dresses of your dreams!
Do you have lots of events to attend each month and want to wear a new designer dress each time? Why not become a GMD member?
Check out our latest article on the Memo about how dress hire is the greener and avant-garde approach to fashion?
If you need any suggestions or styling advice for any event, email: Enquries@girlmeetsdress.com
Remember you can also book a London showroom appointment by emailing: showroom@girlmeetsdress.com
Follow us on:
Snapchat: GirlMeetsDress
---