We have recently seen Kim Kardashian looking fabulous in a vintage Jeremy Scott money-covered trench coat. If you feel as inspired as us, you can use our dress rental site, hire a dress and satisfy your fashion craving for less!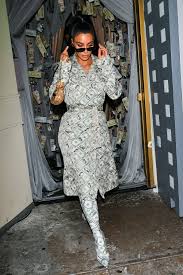 The money print look  is definitely risky and bold and you might perhaps find yourself in the situation of not wanting to invest in such a piece that you wouldn't see yourself wearing many times over the years but wanting to have fun with fashion and recreate your own version of Kim Kardashian's money look. Well we are here to help. Dress hire is definitely the option for you, now you can rent a dress uk.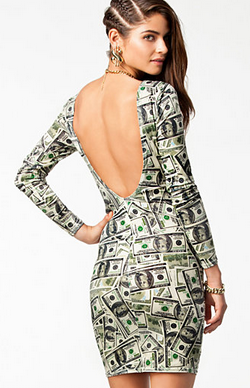 Get the look with this designer dress hire uk from Estradeur . Pair it with your favourite minimal heels and let the money dress do all the work.
If you are looking for formal dresses near me, Hire that look with Girl Meets Dress – we are the dress hire destination to rent a dress from designer brands. Own the moment and rent the dress! We offer all type of dresses to hire to cater to all your special occasions, and they range from prom dresses, Evening & Cocktail dresses, Wedding guest Dresses, mother of the bride dresses, Race day dresses.
For those who live in London, Girl Meets Dress offers same day delivery, for all orders placed before 1pm, so it's not too late to hire dresses of your dreams!
For all our other UK and European customers, we offer next day delivery for all orders placed before 1pm.
With Girl Meets Dress, you can now rent the runway in the UK, as the dresses you see on Girl Meets Dress website, are always from the front row of the catwalk.
Do you have lots of events to attend each month and want to wear a new designer dress each time? Why not become a Girl Meets Dress member?
We are happy to help all women find the perfect dress to hire and you can contact our team by email or phone: 02074989131 | ENQUIRIES@GIRLMEETSDRESS.COM, if you need any suggestions or styling advice for any event.
Remember you can also book a Girl Meets Dress, London showroom appointment by emailing: showroom@girlmeetsdress.com
rent the runway uk,  rent a dress,  dress hire uk, dress hire, rent a dress uk, dress hire london, designer dress hire, hire a dress, dress rental uk, dress rental, designer dress hire uk, hire dresses, hire designer dresses uk, hire dress, 
rent dresses uk, hire a dress uk, rent designer dresses uk, dress rental london, rent a dress london, dress hire glasgow, rent dress london, girls meets dress, rent the runway uk equivalent, rent designer dresses, borrow a dress.
---