Sunday 8th December
It's one of the biggest and busiest party nights of the year, so it's important to make a statement in a unique dress that will stand out from the crowd. On occasions like this, the high street just doesn't cut it; which is why I love the party dresses for hire from Girl Meets Dress. There are some amazing designers and quirky patterns- meaning nobody will turn up in the same outfit as you.
The Gold Sequin Prom Dress from Opulence England (£49 Hire) is the ultimate sparkly puffball dress. You'll be like a beacon on the dance floor.
I also love the iconic Herve Leger Two Tone Bandage Dress (£139 Hire), as it's best to start the New Year as you mean to go on- sexy and confident.
The bright and glitzy 70s-style Marc Jacobs Rainbow Paillette Dress (£49 Hire) is a disco showstopper, and with a £900 retail price tag, is one you probably wouldn't get the chance to wear normally.
If the '20s are more your thing, I adore the Great Gatsby-esque Versace Jeans Jenna Dress (£79 Hire) with its Art Deco-inspired print. It's the epitome of elegance.
If you are going to a black-tie occasion to see out the end of 2013, and need a long dress, you won't find better than the Holly Maxi Dress from Erdem. Its colourful galactic print is perfect for a night like this.
The idea of hiring designer dresses for special occasions is a great one. Once I've been photographed in a dress, I never want to wear it again; so this is the perfect solution. It's much cheaper, and gives you so many more opportunities to wear stunning designs. It's especially important during the festive season where parties running into the double figures are commonplace!
Laura Pearson-Smith is a blogger at A Life With Frills [http://www.alifewithfrills.co.uk], and a fashion journalist.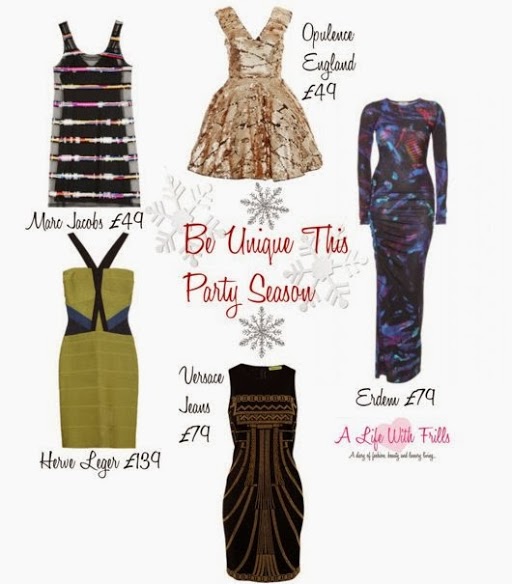 Don't forget that the 30% off our special Advent Collection ends at midnight tonight! Use the code ADVENT30 at the checkout.

---