Being a wedding guest can be very stressful sometimes. What to wear to a wedding, how to wear a wedding guest dress and will I ever be able to wear it again and justify that ¨cost per wear¨ are some of the questions we tend to have.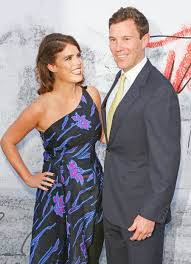 If all these questions overwhelm you every time you have to attend a wedding, imagine what it would be like to attend a Royal Wedding. Thankfully, the majority of the guests to Princess Eugenie and Jack Brooksbank Wedding will most certainly have the help of a styling team, just like we do for you when you come to us in regard to that
special event.
But who are they going to be?
Amal Clooney, Ellie Goulding, Karlie Kloss, Victoria Beckham and of course Meghan Markle are some of the women that will attend and we can´t wait to find out what they will be wearing on the day. In the meantime, we thought we would do what we know how to do best at Girl Meets Dress and style them with our unique rental dresses UK.
Amal Clooney looked stunning in yellow at the previous Royal Wedding, we know now she loves colour and in fact, it suits her very well. We think she would look gorgeous and vibrant in this designer hire
dress UK from Attico  If you want to go for this look too, you can rent the dress now too on our site.
For Victoria Beckham, we reckon she would look as chic and elegant as always for this Royal Wedding 2018 in one this wool-blend midi dress designed by her. Are you trying to figure out how to dress for an autumn/winter event? This is a great option, hire a dress!
Finally, we are most excited to see what will Meghan Markle wear for Princess Eugenie Wedding. We have decided to style the newest addition to The Royal Family on this classic cut dress by GHOST.  You can also rent the dress with us.
We can't wait for the Royal Wedding day on the 12th of October to find out what guests will be wearing. Dress overload!
If you are looking for formal dresses near me, Hire that look with Girl Meets Dress – we are the dress hire destination to rent a dress from designer brands. Own the moment and rent the dress! We offer all type of dresses to hire to cater to all your special occasions, and they range from prom dresses, Evening & Cocktail dresses, Wedding guest Dresses, mother of the bride dresses, Race day dresses.
For those who live in London, Girl Meets Dress offers same day delivery, for all orders placed before 1pm, so it's not too late to hire dresses of your dreams!
For all our other UK and European customers, we offer next day delivery for all orders placed before 1pm.
With Girl Meets Dress, you can now rent the runway in the UK, as the dresses you see on Girl Meets Dress website, are always from the front row of the catwalk.
Do you have lots of events to attend each month and want to wear a new designer dress each time? Why not become a Girl Meets Dress member?
We are happy to help all women find the perfect dress to hire and you can contact our team by email or phone: 02074989131 | ENQUIRIES@GIRLMEETSDRESS.COM, if you need any suggestions or styling advice for any event.
Remember you can also book a Girl Meets Dress, London showroom appointment by emailing: showroom@girlmeetsdress.com
rent the runway uk,  rent a dress,  dress hire uk, dress hire, rent a dress uk, dress hire london, designer dress hire, hire a dress, dress rental uk, dress rental, designer dress hire uk, hire dresses, hire designer dresses uk, hire dress, rent dresses uk, hire a dress uk, rent designer dresses uk, dress rental london, rent a dress london, dress hire glasgow, rent dress london, girls meets dress, rent the runway uk equivalent, rent designer dresses, borrow a dress.
---