Golden Globes 2018! We saw some spectacular evening dresses! This year we saw celebrities wearing the colour black to show solidarity with the victims of sexual harassment and assault at the 75th annual Golden Globes in Los Angeles Sunday night. This blog will feature some of our favourite celebrity dresses from the Golden Globes along with similar dresses to hire from Girl Meets Dress.
Our pick! GANNI, Seneca Silk Dress (on the left), Angelina Jolie (on the right)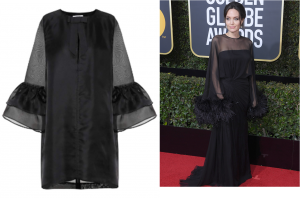 Angelina Jolie looked amazing in Versace. She wore a stunning black gown that featured a ruched bodice and sheer sleeves with feathered cuffs. We were loving the big sleeves so here is our choice of a  similar dress to hire from us at Girl Meets Dress.
The GANNI, Seneca Silk Dress is a perfect dress to hire for any event! Whether that may be a dress for a black tie event or a classic cocktail party! The Seneca Silk Dress is the perfect little black dress, and we are loving the big sleeves which is what stood out to us from Angelina Jolies dress! So why not hire a dress from us and receive your perfect little black dress.
Our pick! ARIELLA, Naomi Black Gown Dress (on the left), Kendall Jenner (on the right)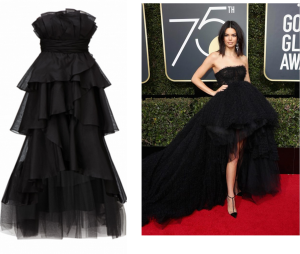 Kendall Jenner definitely made all faces drop when she made her grand entrance wearing Giambattista Valli.  Straight from the runway of the designer's fall couture collection. This statement-making as dress, with a mini hem at the front, and floor-grazing train at the back, Kendall makes sure to adhere to the black dress protest theme at the Golden Globes this year. Our choice below for the perfect dress to hire similar to Kendall Jenner's!
This ARIELLA dress is definitley a dress to hire for this season! A sensational black silk gown organza full length gown with a pleated ruffle bodice and tiered skirt. This dress is finished off with a fine net skirt at the hem, promising a beautiful silhouette. Detachable straps included. The perfect black tie dress, so why not hire a dress from us and get the Kendall Jenner 'WOW' look!
Our pick! UNIQUE, Oriana Gown (on the left), Nicole Kidman (on the right)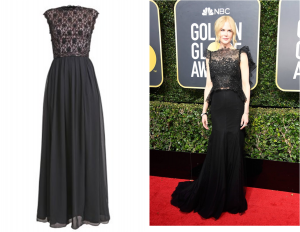 Nicole Kidman in Givenchy! Big Little Lies star Nicole Kidman took home an award for the best actress in this series, and she looked amazing while doing so! Nicole Kidman looked absolutely stunning in a jaw-dropping black dress by Givenchy, which was the perfect choice for the event!
This UNIQUE gown is gorgeous and elegant and the perfect dress to hire for your black tie event! This, Oriana gown is cut from swathes of fluid crepe. It comprises a pleated embellished black bodice and an black skirt that falls beautifully to the floor. We love how the black trim accentuates your waist at its narrowest point. So why not visit our website and  hire a dress like Nicole Kidman was seen wearing to the Golden Globes 2018!
Our pick! JILL JILL STUART, Veronica Lace Slip Gown (on the left), Dakota Johnson (on the right)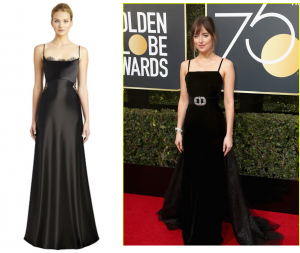 Dakota Johnson looked timeless in this Gucci gown, that she walked the red carpet in. The glittery black Gucci gown which she paired with sparkling jewellery. It wasn't until she turned around, however, that we fully appreciated the look. The back featured a crystal-embellished bow design, and completely left us stunned. It was gorgeous! Below is our choice for you to get the look and hire a dress just like this one!
This JILL JILL STUART dress is, the classic sleek slip dress by inserting delicate Chantilly lace with a softly draped neckline. The fitted waist and flattering neckline epitomizes sophistication. Hire a dress from us and look as gorgeous as Dakota Johnson did!
Check out our latest article on the Memo about how dress hire is the greener and avant-garde approach to fashion?
We do next day delivery or same day delivery if you live in London, for all orders placed before 1pm, so its not too late to 
hire dresses 
of your dreams!
If you need any suggestions or styling advice for any event, email: Enquries@girlmeetsdress.com
Remember you can also book a London showroom appointment by emailing: showroom@girlmeetsdress.com
Follow us on:
---