Thursday 12th December
It's that time again where the end of year chaos takes over your home in a flurry of Christmas cards, mince pie crumbs, wrapping paper, and the last minute dash to find that forgotten Christmas gift. Somewhere in the mixture is bound to be a work Christmas party or two, which you have no idea what to wear to and simply don't have the time nor inclination to spend hours trailing round the shops. Enter Girl Meets Dress! I extensively searched their fabulous options and found these fail safe beauties to get you through the season: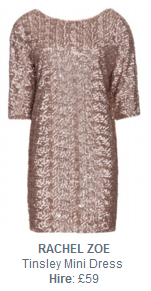 1. Tinsley Mini Dress by Rachel Zoe = As the super stylist/designer herself would say "I die" for this dress! It has glamour, elegance, show-stopping dazzle and a relaxed edge making you look effortlessly cool and stylish. Perhaps try wearing with the Deco Semi Sphere Ring by Dominic Jones for added glitz!
2. Riri Dress Red by NLY = bring the Christmas fun to the party in this festive, playful and gorgeously flattering little number. I love the skirt on this thing! Layered, swishy and the longer at the back detailing just makes it that extra bit special.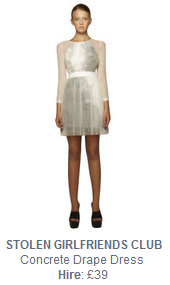 3. Concrete Drape Dress by Stolen Girlfriends Club = This delicate dress with almost iridescent qualities seems reminiscent of snowflakes and ice and would make a beautiful statement at any office party. Simple, restrained, gorgeous!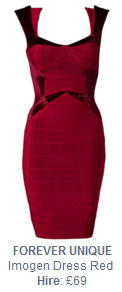 4. Imogen Dress Red by Forever Unique = If cheeky is your thing then look no further than this flirty number. A Day to Night styling is certainly possible in this gem, making your work party look even easier! Simply layer with a blouse, belt and jacket and pack your dancing shoes. Maybe add the Sally Square 2 tone (black) bag by Sara Berman to hold your party essentials.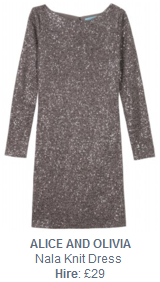 5. Nala Knit Dress by Alice and Olivia = Another easy, transitional work to party dress with a heavenly sequined, soft metallic finish and eye-catching back detail. Sophisticated, understated, stunning!
So there you have my top Work Party picks. When deciding what to wear it is essential that above everything else you feel comfortable and happy with how you look. So pick a dress that suits you and your shape and make sure you love it! Merry Christmas xx

---