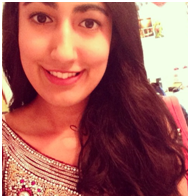 Sascha Gill is an 18 year old student from London who loves to write. Since setting up her lifestyle and fashion blog, Feathers and Butterflies, two months ago, Sascha has become increasingly involved in the fashion blogging world and can't wait to keep learning! Here she takes us through her favourite cocktail dresses online.
1.     Zalika Dress by Malene Birger – £39 
I'm a sucker for anything that sparkles, but I don't like to overdo it. The contrast of the muted top half of this cocktail dress with the golden bottom means you can wear this cocktail dress to any party without worrying about being over or under dressed. Oh, and at just £39 to hire, it's a steal!
2.      Papina Dress by Alice and Olivia – £49
I'm a big fan of the sexy but subtle look and the mesh on this cocktail dress delivers just that. It's only £49 to rent and it would be the perfect LRD (Little Red Dress) for any occasion.
3.    Khaki and Pink Intarsia Dress – £39
The butterfly detail on this cocktail dress has me swooning (can you guess what my blog name is yet?). It's not your typical cocktail party dress but it's great if you want to look unique and fabulous all at the same time.
4.     Thunder Dress by Krystof Strozyna – £29 
Recently, I've been trying to curb my obsession with LBDs, but the thunder detail on this cocktail dress is fierce! I feel like all the attention (the good kind) would be on me if I sauntered in to a cocktail party in this little number.
5.    Claire Paisley Dress by Samantha Sung – £49 
Last, but by no means least is this quirky but cute cocktail dress. What I love about this one is you can pair it with a simple pair of flats during the day and then easily dress it up for a night on the town!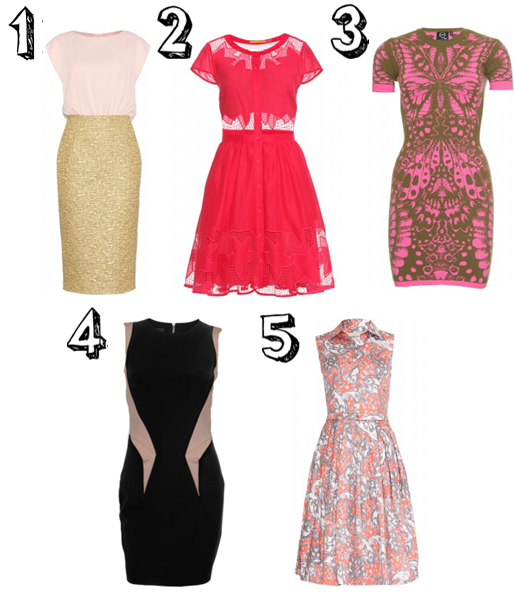 ---