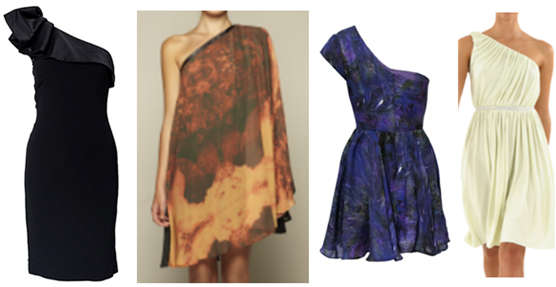 I always think that the simple, yet striking cut of an off-the-shoulder dress calls for unprecedented minimalism. Hair up and off the face, earrings rather than a necklace, and accessories kept equally understated. By drawing attention to the more unusual shape, the long evening dresses remains the real statement.
With a mostly monochrome wardrobe I surprised myself when it came to picking my favourite one-shouldered evening dresses, ending up with a couple of colourful choices in the mix. Having said that, I have to begin with a classic black dress; the Chaitain Dress by MaleneBirger is effortlessly simple, with the silk ruff bringing just enough detail to balance out the black.
With a tendency for oversized, slightly shapeless pieces, I was predictably drawn to the dramatic shape of the Volcanic Drape Dress by Stolen Girlfriends Club. I would team it with black shoes to accentuate the edging and to emphasise the amazing abstract print.
Whilst my first two evening dresses are probably more suited for winter, the second options would be perfect for spring. I love the beautiful floral colours of the Vintage Romance dress by Mia Jafari, whilst again keeping it simple with The Liberty Dress by Gorgeous Couture, which has a really flattering shape.
These are just some of the one-shouldered evening dresses online available to rent from the wonderful selection at Girl Meets Dress; four simple dresses, perfect for making a stylish statement the next time you're dressing up for an evening out.
Visit Rachael's blog A Sustainable Thread here
---