So you've agreed to go for a night out with your friends and want a killer dress to impress. If you want to rent a dress for your sesh from Chic by Choice, unfortunately they've closed down, but don't worry as Girl Meets Dress is here for your night out. Thus, Chic by Choice customers can still have the one night stand with a dress, by choosing Girl Meets Dress. We've composed a list of our favourite dresses for you to hire, to impress.
Glamorous – Golden Sequin Dress
Want to feel prime on your night out? Then hire this gold sequin mini dress by Glamorous. V-neck front and thin shoulder straps featuring cross-over design to reverse.
Alice + Olivia –Nala Knit Dress
We love the hint of seductive detailing at the back of this metallic soft, sequined silver mini dress from Alice + Olivia. Perfect for an easy after work transition to cocktails. Team with black ankle boots or knee high boots and metallic accessories to complete your look.
Gorgeous Couture  – Paige Jumpsuit

Hire this red jumpsuit by Gorgeous Couture, as it offers a slim-fitting trouser and distinctive draped neckline, perfect party wear for any occasion.
Versace Jeans – Navy Bodycon Dress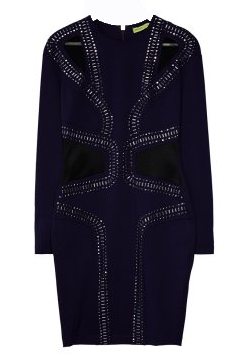 This navy long sleeved mini dress is a fantastic cocktail dress to hire by Versace Jeans. Team with heels or boots and a shoulder bag or clutch. Weddings, Birthdays, Dinner – this navy long sleeved mini dress is a dress for everything!
Krystof Strozyna – Pink Sand Dress
Krystof Strozyna's pale-pink silk long sleeved mini dress with an apricot sand-scratched-syle print makes a fabulously feminine yet fashion-forward party option. This loosely tailored tonal piece needs little embellishment – simply add nude pumps and a clutch to complete a directional after-dark choice. For added glamour you can pair it with dazzling drop earrings.
As a Chic by Choice customer, I am sure you know that they were based in London and here at Girl Meets Dress for those who live in London, Girl Meets Dress offers same day delivery, for all orders placed before 1pm, so its not too late to hire dresses of your dreams!
For all our other UK and European customers, we offer next day delivery for all orders placed before 1pm.
With Girl Meets Dress, you can now rent the runway, as the dresses you see on the Girl Meets Dress website, are always fresh off the catwalk.
Do you have lots of events to attend each month and want to wear a new designer dress each time? Why not become a Girl Meets Dress member?
If you need any suggestions or styling advice for any event, email: Enquiries@girlmeetsdress.com
Remember you can also book a Girl Meets Dress, London showroom appointment by emailing: showroom@girlmeetsdress.com
Follow us on:
Snapchat: GirlMeetsDress
---