It's June and summer is upon us, OK maybe we're not  experiencing the sizzling scorcher of a summer the forecasters predicted as of yet, but here at Girl Meets Dress the weather won't stop us getting excited about the prospect of a summer filled with glamorous events and fabulous dresses to wear to them.
If your calendar is already packed with garden parties, summer weddings, sporting events and other special occasions you will need to ensure that have a suitably stunning dress (or three) to wear.
Don't get caught making the fashion faux pas of wearing the same dress to different events, who knows where and when
you might get photographed .Make sure your events are  perfectly styled with Girl meets Dress fool proof style guide to all you summer soirees.
If you're lucky enough to visit the Cartier polo match you'll need a tasteful dress that is smart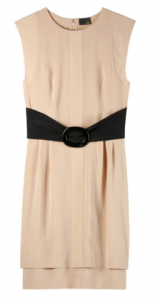 enough to please the Royals, who know? You might bump into one of the Princes. Why not channel some of Kate Middleton's style in flirty feminine dresses that are elegant enough to see you through the day, and with a few added accessories transition seamlessly for evening
celebrations. This classic shift dress by Fendi is ideal for polo in an on trend nude tone, wear with
dark shades during the day and alternate with black accessories for evening glamour.
Perhaps you've got a big wedding to attend and you're stuck for ideas of what to wear, well don't get tempted to throw on something that will make you blend into the background, you'll regret it when you see the wedding photos. Make a statement in this bold colour block dress by Ossie Clark for a fashion forward ensemble that is ideal for those trendy city weddings.
Make the most of the warm summer evening by arranging at date with your special someone
somewhere outside. This gorgeous chain print dress by Milly is ideal for British Riviera chic a suitable style should you wish to enjoy some fine food and wine on the terrace of romantic little bistro.
If your event is an altogether fancier affair and you've got a black tie event to attend opt for elegance in a floor length gown. A Maxi-Dress is a brilliant compromise for comfort at formal events, keeping a dignified amount of skin disclosed whilst creating the illusion of a slim and sexy silhouette.
Don't forget if you're still in a quandary as to what to wear to your event give our Style Advisors a call on 07867 785 814 to get a helping hand in finding you the perfect dress.
---