Now, who's meant to look the best on a wedding day? The bride, of course but you can't let your friends end up looking hideous! Girl Meets Dress has lots of bridesmaid dresses in different styles to suit every one of your friends or family that make up your bridal party.
Bridesmaid dress hire means you can rent cheap bridesmaid dresses and don't have to blow your budget on anything from 2 to 6 girls bridesmaid dresses, you may even have more bridesmaids than that! With our bridesmaid dresses to hire you can use our advance try on service to make sure the dresses fit before the wedding, which will definitely help with every woman being a different shape and size! We then take care of everything for you and redelivery your bridesmaid dresses in time for your occasion.
We have the most popular colours of pink bridesmaid dresses, red bridesmaid dresses, blue bridesmaid dresses and purple bridesmaid dresses. But you may wish to choice black bridesmaid dresses or navy bridesmaid dresses for a  more classic, simple theme. Silver bridesmaid dresses or gold bridesmaid dresses are also lovely to add some glamour to your day and are great for a winter wedding. Try our Ruth Tarvydas Refined Retro dress in pewter-gold to compliment your bridesmaids' figures.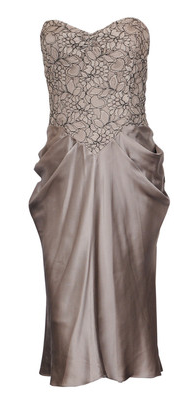 Pastels are another beautiful colour option for bridesmaids dresses to hire. We have great options to choice from including sage green bridesmaid dresses, pink bridesmaid dresses and lilac bridesmaid dresses. The Diva Sophia Una Gown is an pure silk-georgette maxi dress that was worn by The Saturdays for Una Healy's wedding. So grab your girls a few of these floaty pink bridesmaid dresses to have a wedding fit for a celeb! Priced at just £39 to hire, this dress is a steal! It also comes in mint green if you want a pastel alternative to pink.

Another fairy-tale-esque pastel number we have on offer is the Maids to Measure Catherine Gown. A few of these lilac bridesmaid dresses will will have your bridesmaids looking beautiful yet understated for your dream wedding.

Not long till the big day? Search now to choose from long dresses, short dresses and a variety of colours and designers to find bridesmaid dresses to hire at Girl Meets Dress.
---