How can you make all your bridesmaids happy? No one is going to have the exact same body shape and size. So how can you find bridesmaid dresses that don't leave the girls in tears?
Girl Meets Dress has the solution. BUTTER offer the ultimate designer bridesmaid dresses in 2 different lengths.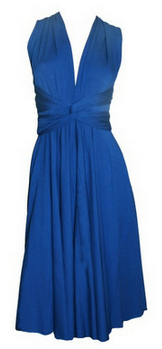 The Butter by Nadia Jersey Dress in Sapphire is one of our gorgeous blue bridesmaid dresses that we have available to hire. This one size fits all is a wrap dress that can be styled in over 20 different ways to suit each and every one of your bridesmaids, no matter their shape and size. The dress also comes in amethyst and ruby red. So you can go for a string of blue bridesmaid dresses or have a jewels nest of bridesmaids with purple, blue and red dresses for different girls. This dress is also a jaw dropping-ly cheap bridesmaid dress at just £39 to hire!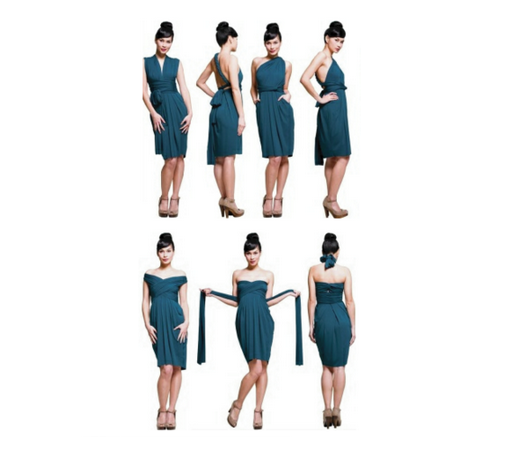 If you want a more glamorous look Butter by Nadia  have a longer style of this bridesmaid dress. The Jersey gown in red would be perfect for a Christmas wedding to compliment any festive themes you have for decorations and flowers. This long bridesmaid dress is also versatile and can be worn in 20 different ways like it's shorter sister dress. The dress in Cerulean is your other colour option. So you have a choice between green bridesmaid dresses or red bridesmaid dresses, which would you go for?

Choose the Butter by Nadia jersey gowns and dresses for bridesmaid dresses everyone will be happy with! Mix it up with the long and short styles with a variety of colours to allow your bridesmaids to make a personal choice and show off their individuality. Or stick to the traditional and keep in control by choosing your favourite colour and length.
If these dresses aren't for you and your bridal party, then we have lots of other styles and colours to choose from for bridesmaid dresses to hire. We have pink bridesmaid dresses, sage bridesmaid dresses, lilac bridesmaid dresses, navy bridesmaid dresses, gold bridesmaid dresses and silver bridesmaid dresses. Shop hire bridesmaid dresses now to find the right gowns in time for your special day!
---