Boyfriend or no Boyfriend, Valentines day is around the corner! Dinner date with BAE? We have the perfect dresses to hire! Single and going out with your girlfriends? Look no further and rent a dress from us! Want to rent a mini dress? Or have you decided you would rather rent a long gown. Well you're in luck, as this blog will feature a selection of mini dress to hire and long dresses to hire and even some midi dresses to hire! We will include our favourite red dresses to hire to fit in with the theme, as well as all the other perfect colours which are perfect for valentines day dresses!
Mini Dresses To Hire For Valentines Day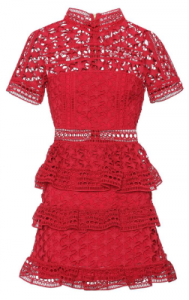 This red mini dress for hire is by Self-Portrait is equal parts contemporary and feminine. The star-shaped guipure lace is shown in a bright red hue, while the tiered mini skirt brings playful attitude. Sheer detailing at the neckline, sleeves and waist shows just the right hint of skin.
For Love & Lemons¬†–¬†Agnes Mini Cocktail Dress
LA label For Love and Lemons is one of our favourite brands for pretty, printed dresses. Featuring a sheer neckline, this pretty floral mini design is a beautiful dress to hire for a day or evening event and a wonderful colour if you usually opt for dark dresses.
Midi Dresses to Hire for Valentines Day!
Roland Mouret¬†–¬†Nabis Tailored Dress
This green midi dress by Roland Mouret shows fantastic tailoring – coloured bright green with black sleeves, this V-neck silhouette is made even more sultry with a gold-tone zip that runs all the way down the back. Perfect if you're going straight form the office to your date.
Three Floor / Upmarket Cocktail Dress
Three Floor dresses have an amazing modern femininity. This slim fitting crepe and lace combination dress has been delicately crafted with a sweetheart bust-line, contrast mesh and a peplum hem.
Floor length dresses to Hire for Valentine's Day!
Alexander Wang¬†–¬†Panne Velvet Dress
Hire this velvet maxi dress from Alexander Wang. This long silhouette of shimmering velvet gives your evening look an extra seductive edge. Team with a blazer or leather jacket and either strappy sandals or ankle boots.
Jill Jill Stuart¬†–Thandie Slip Rust Dress
The dress of the season. A softly, side-draped slip dress in a chic shade of red/orange by Jill Jill Stuart.
We do next day delivery or same day delivery if you live in London, for all orders placed before 1pm, so its not too late to hire dresses of your dreams!
Do you have lots of events to attend each month and want to wear a new designer dress each time? Why not become a Girl Meets Dress member?
If you need any suggestions or styling advice for any event, email: Enquiries@girlmeetsdress.com
Remember you can also book a Girl Meets Dress, London showroom appointment by emailing: showroom@girlmeetsdress.com
Follow us on:
Snapchat: GirlMeetsDress
---