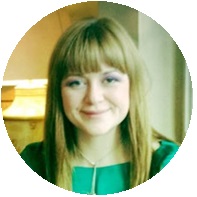 Sophia Smith runs the online preloved designer dress agency Revolve Boutique. The site allows women to sell their designer clothes, shoes and accessories that they no longer need – and every application is evaluated so only the best of the best make it onto the site. A typical day for Sophia includes blog writing, getting products ready to be photographed and uploading new finds to the site. Here at Girl Meets Dress we have so many dresses for weddings and today Sophia takes us through her top wedding guest dresses to hire.
Malene Birger Caon Print Dress – £59
I love wearing silk, it just oozes luxury, and looks good too. This dress is a perfect wedding guest dress. I love the pretty pink detail and the way it contours your body to give that 'illusion' effect of hiding any recent indulgences. You don't need to do much to this dress, a pair of statement earrings, and wedges would be perfect.


Ariella Andrea Dress – £69
The colour is perfect for a summer wedding, understated and delicate. The length is perfect for partying until the wee small hours. I would team it with a cut off jacket, and silver shoes.
Stella McCartney Ridley Woven Dress – £59
Stella McCartney time-after-time ticks all the right boxes for elegant day wear. This wedding guest dress is simply fabulous. I love how you could pick out the neon colour and match them with statement footwear and earrings. Best of all it is a British Label and I love supporting our home-grown talent.
Halston Heritage Twisted Halter Dress – £79
Halston Heritage's beautiful colour and cut make this a fabulous maxi dress for weddings. Pair it with a neutral jacket for the day-time festivities and fling that jacket on the dance floor later on! Flattering cut means you'll be able to hide any indulgences you might make during the wedding breakfast.
Jil Sander Zip Front Dress – £89
This fabulous shift dress by Jil Sander has a wonderful raspberry hue that would match perfectly with a white tuxedo jacket. Demure in length and cut you'll look elegant and sophisticated. I would love to wear it with a statement clutch and necklace.
To view all our wedding guest dresses click here. To follow Revolve Boutiques blog click here.
---