London Fashion Week kicks off again on Friday 13th September, and although we've only just put away our summer clothes we're still looking forward to seeing the influx of SS dresses for next year. This week Girl Meets Dress takes you through the best party dresses to hire for LFW.
Friday – Alexander Wang Sheer Inserts Dress – £39
One of our favourite black party dresses is this Alexander Wang Sheer Inserts Dress available to rent for £39. Short party dresses are always quite daring, especially with the sheer panels.
Saturday – 3.1 Phillip Lim – £49
A favourite from our ladies party dresses, this 3.1 Phillip Lim dress is available to hire for only £49. Seen in abundance on street style blogs, this girls party dress is simply stunning.
Sunday – Burberry London Erica Ruched Dress – £69
If you're looking for cheap party dresses then look no further than Girl Meets Dress. Where else can you find Burberry London for less than £70?
Monday – Alexander McQueen Metallic Knit Dress – £79
McQueen is definitely one of the best party dresses for women. This classic knit look will work perfectly, especially with some little black ankle boots. Celebrate UK party dresses with a classic British designer.
Tuesday – Victoria Beckham Lemon Sorbet Dress – £49
As Fashion Week comes to a close, you know this is when all the parties will be kicking off. Hire one of our evening party dresses by Victoria Beckham and feel a million bucks!
View all our party dresses available to rent here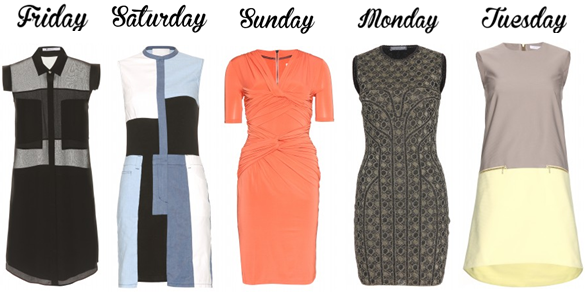 ---