Starting to plan your prom dress? Well look no further, here at Girl Meets Dress we have the perfect selection of prom dresses to hire. Ranging from all different colours, shapes and sizes. To the very best prom dress designers, Some of our favourites being: Self Portrait dresses, Jovani dresses, Dynasty dresses, Forever Unique dresses, just to name a few! This blog will feature some our recommended dresses to hire for prom.
Want to go simple with Black but still stand out and be stunning? Take a look at some of our long black dresses and mini black dresses we recommend for your prom dress!
Gorgeous Couture, Jodie Maxi Dress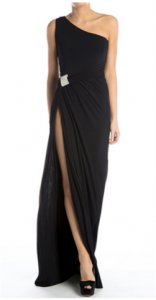 Look like you are on the red carpet with your prom dress. Secure a guaranteed A-list status with a tantilising thigh split one shoulder maxi dress. Crafted from Gorgeous Couture's stunning signature fabric that is double layered throughout, the Swarovski crystal embellishment and beautifully elegant draping detail deliver luxurious style. Your perfect prom dress to hire!
Prefer to hire a mini black dress to a long black dress? Below is our mini black prom dress option!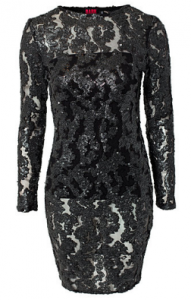 This chic yet classic Sequin dress from DARK PINK. Is a  transparent design with accompanying petticoat. Rounded neckline and long sleeves. With gorgeous see through detail. An simple yet stunning dress for prom!
Want to go for a striking red dress? Be on fire and hire a red long dress or hire a red mini dress!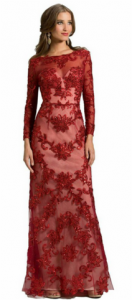 Red is such a great colour for a prom dress. Rent this dress for a modern glamour statement at your special soiree. The beautiful fabric is adorned with beading. Hire a dress for prom and stand out and looking like a Hollywood superstar!
Prefer to hire a red mini dress instead of a red floor length dress? Check out one of our choices below!
Self Portrait, Star Lace Dress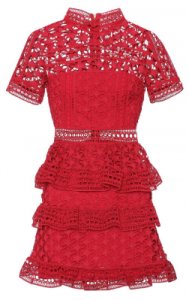 This dress from Self-Portrait is equal parts contemporary and feminine. The star-shaped  lace is shown in a bright red hue, while the tiered mini skirt brings playful attitude. Sheer detailing at the neckline, sleeves and waist shows just the right hint of skin. Self Portrait dresses are so popular at the moment with all the celebrities so why not hire a dress and stand out in Self Portait!
Going for a Blue prom dress? Check out our options for a dress to hire for prom!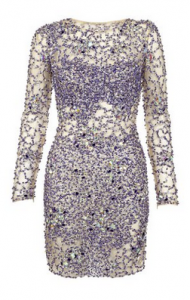 This long sleeved 'Illusion' mini dress by Jovani features purple beads covering the entire dress with a nude mesh body. Wear with minimal accessories. This dress does all the talking! Worn by Tulisa live on the X Factor.
Perfect as a Prom Dress.
Glamorous, Cold Shoulder Dress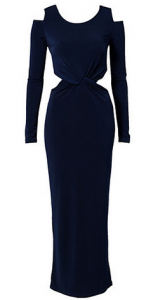 Maxi dress by GLAMOROUS. Long sleeves and rounded neckline. Open sections on shoulders and opening with decorative knot at waist. Stretch material. An easy yet stunning prom dress for hire!
Check out our latest article on the Memo about how dress hire is the greener and avant-garde approach to fashion?
If you need any suggestions or styling advice for any event, email: Enquries@girlmeetsdress.com
Remember you can also book a London showroom appointment by emailing: showroom@girlmeetsdress.com
Follow us on:
Snapchat: GirlMeetsDress
---