Getting married in 2020?
It's time to think about a dress for bridesmaids. The challenge is to find the perfect dress for all of them: different heights, different body shapes and tastes.
First of all, the choice of the dress starts from the colour: it has to be in line with the wedding theme.
Pale pink bridesmaids dress, Burgundy, Blue navy and sage green bridesmaids' dresses are the most popular but sometimes you need a colour more specific.
Let's face it, how many of us where our Bridesmaid dresses again?¬†It doesn't make sense to spend money on dresses that none of your friends want to keep and wear again.¬† 'ÄúYou can shorten it, dye it and wear it again'ÄĚ is one of the biggest wedding optimism.
Renting the bridesmaid dresses gives ensures your maids look great on the wedding day without the guilt and financial burden of paying full price for a dress no one will wear again.
The Willow multiway dress gives all the bridesmaids a unique look because it is  available in 51 colours and you can wrap the style in  more than 20 ways: choosing between 4 different sizes from UK 2 to 24. Ensuring even plus-size,  petite or pregnant friends will look amazing!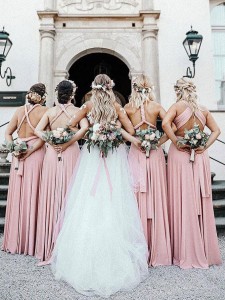 ---