Girl Meets Dress has teamed up with Emily Crisps, so each time you hire a dress from us, you get a free sample of one of the three flavours:
Crunchy Sweet Potato, Carrot and Beetroot
Crunchy Red Apple
Crunchy French Bean, Sugar Snap Peas and Black Edemame.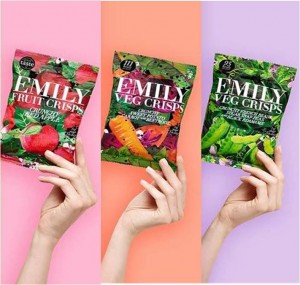 Emily Crisps was founded in 2014 by partners Emily Wong and Alex Ascani as a healthy, great tasting alternative to traditional potato crisps and fruit snacks. Its aim is to provide health-conscious consumers with the opportunity to indulge in guilt-free snacking, offering the goodness of fruit and vegetables in a crisp with great crunch and taste. Originally launched exclusively in Selfridges, it has grown significantly over the last two years and is now stocked in over 1,000 retail locations in over ten countries.
First launched with three fruit crisp varieties, the brand has recently expanded its offering with the introduction of two new vegetable crisp varieties.
Emily Crisps, is not only for the health conscious with its no added sugar and only using a fraction of oil, compared to traditional crisps, but fits into a range of lifestyles as it is:
Halal
Kosher
Suitable for Vegans
Gluten Free
We do next day delivery or same day delivery if you live in London, for all orders placed before 1pm, so its not too late to hire dresses of your dreams!
Do you have lots of events to attend each month and want to wear a new designer dress each time? Why not become a GMD member?
If you need any suggestions or styling advice for any event, email: Enquiries@girlmeetsdress.com
Remember you can also book a London showroom appointment by emailing: showroom@girlmeetsdress.com
---