We're having one of those days.
It's wet. It's cold and we want to be swanning around NYC with our pink tutu skirt and sky scraper heels. We want to be Carrie Bradshaw.
So, because of this we have decide to show your our interpretation of  'a day in the life on Carrie Bradshaw' with GMD.
Morning coffee break with Stanford. 
Carrie doesn't usually do casual. We can see her now, strutting past central park towards Starbucks with Stanford on her right arm in this multi-coloured, floral Alice and Olivia print dress. Even if she is out on a morning stroll, we can't imagine her wearing flats!
Lunch date with the girls.
This Alexander McQueen number is very Bradshaw. The quirky, almost butterfly-print pattern along with the use of pink and khaki would suit her down to a T with a pair of pointed stilettos and her out-of-control curly hair! This would be a perfect dress for a lunch date gossiping with Samantha, Charlotte and Miranda!
Cosmo's with Samantha.
We're thinking evening wear. Something a bit more fleshy and strappy and slinky! We're thinking she would love this Alexander Wang grey and blue stripey dress, especially due to the slight sparkle.
Dinner with Mr Big. 
Nothing beats a LBD, but Bradshaw doesn't do simple or plain. This beautiful Alice and Olivia black dress is perfect for a night out with the only man in her life (well, except Manolo Blahnik!). The sheer maxi skirt is a beautiful touch on a simple dress that adds both edge and sexiness. We think Miss Bradshaw would approve!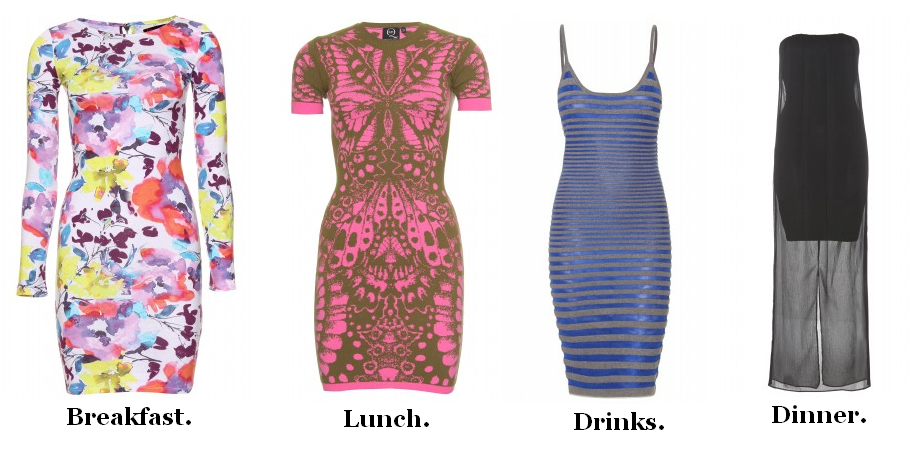 So embrace Thursday and channel your inner Bradshaw. 
---