Girl Meets Dress' new vintage dresses collection is almost there!
Are you interested in beautiful vintage dresses? That's perfect because Girl Meets Dress is launching a vintage collection soon. You will be able to buy incredible dresses from different decades, and from designers such as Balmain or Alexander McQueen.
Here is a sneak peak:
Josh Charles – The Vine Dress – size 12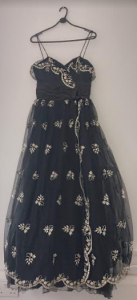 A beautiful black with gold vines embroidered long dress.
Regamus – Black gold embroidered dress – size 14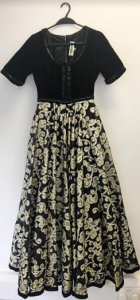 An incredible black dress with sleeves and sequins details. The top is black velvet with black sequins. The skirt part is embroidered with gold and detailed at the bottom with sequins.
Balmain Ivoire – Silver orchard – size 14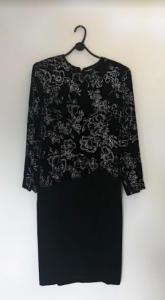 This Balmain vintage black is detailed with beautiful silver sequins on the top.
Frank Usher – Velvet multicolour flower Dress – size 14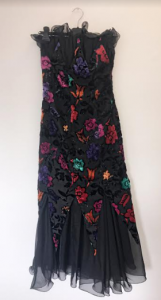 This is a beautiful long black dress. The flowers are made of velvet and are multicoloured.
Frank Usher – Black off shoulder dress – size 12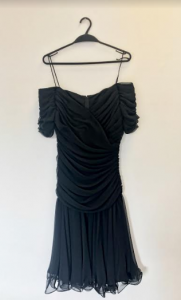 This is a great short black off the shoulders dress rouched.
Piamoforte di Max Mara – The Rachel dress –  size 10 to 12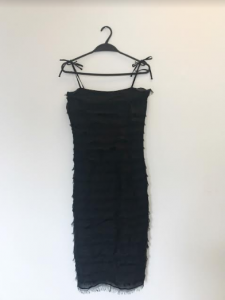 This Max Mara vintage black silk shutter dress is sold with a shawl.
Frank Usher – Polka dots dress – size 10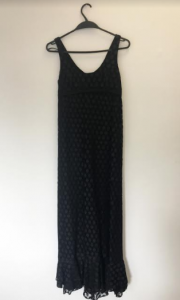 This long lace black polka dots dress.
Frank Usher – Purple ruffles – size 14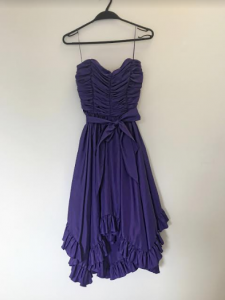 This is a beautiful short purple dress with a bow at the waist and frills at the bottom.
Ghost – Summer magenta – size XXS

This is a very elegant long magenta dress. One of the sleeve is detailed with delicate frills.
Vintage flower beaded – size 10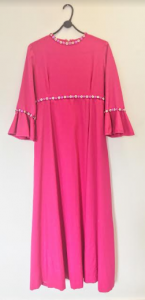 This is a long magenta dress with 3/4 sleeves. The dress is detailed with beaded pink and white flowers on the sleeves, at the waist and on the collar.
Vintage Magenta prom dress – size 8 to 10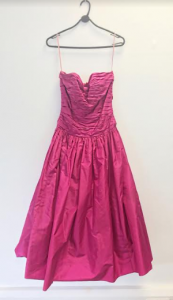 This would be a perfect prom dress. The dress is made of a tulle tutu that makes the dress really puffy.
Frank Usher – Multicolor floral dress – size 14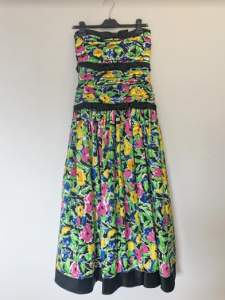 This is a midi flowers strapless dress. It's detailed with a little bow at the top of the dress.
Nicole Miller – Green off shoulder  – size 6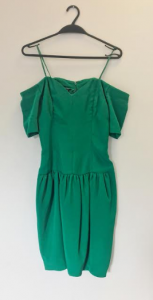 This is a beautiful green dress with straps that delicately fall on your arms.
Donald Campbell – Floral Green – Size 10-12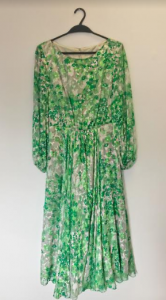 This flowy midi dress is perfect for summer with its green flower pattern.
Vintage berry dress – size 6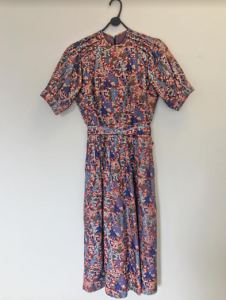 This midi dress is very nice with a Japanese inspired pattern. There is a bow at the waist that keeps the dress structured.
Alexander Mcqueen – Gold flowers – size 8 to 10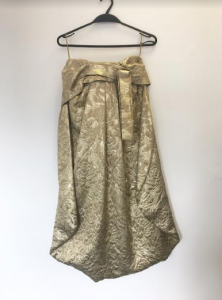 This is an Alexander Mcqueen strapless mini dress. The fabric is detailed with gold flowers.
Jim Hjelm – Pearly one shoulder – size 8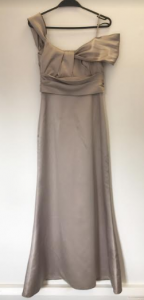 This Jim Hjelm pearl effect midi dress is very pretty with an off the shoulder strap.
Blanes – Daisy dress – size 12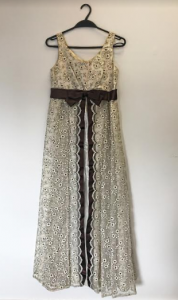 This midi dress is detailed with daisies all over. The colour of the dress is ivory and there is brown bow that goes perfectly with the ivory. The first layer of the dress opens at the front, showing the bottom white layer.
Frank Usher – White waves – size 12 to 14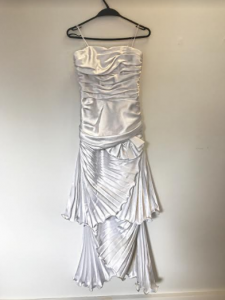 This is a gorgeous pearly white strapless midi dress. The bottom of the dress looks like beautiful waves.
Any questions? Email enquiries@girlmeetsdress.com
Be ready, launching soon…
Follow us on our social media:
Facebook – Instagram – Twitter
Snapchat: GirlmeetsdressS
---