At Girl Meets Dress we know how hard it is to find flattering maternity dresses for when you are expecting. We have a stunning selection of maternity dresses that are specifically designed to flatter your changing body and enhance your maternal glow.
At Girl Meets Dress, we appreciate that nobody wants to pay for a dress that they won't fit into in a couple of months! So don't worry (we got you covered) just rent your maternity evening dresses instead!
Do you have a Christmas Party to attend? A black-tie event? Well  our ranges, designed specifically for ladies that are expecting,  have many different styles and shapes that will compliment your baby bump. That's right, with the festive season rapidly approaching we have narrowed down our stylish maternity dresses to the absolute must haves!
With a variety of shapes, lengths and sizes we have everything to ensure that you find the right maternity evening dress.  From leading designers such as Crave Maternity,  our dresses maintain the standards of design.
Congratulations and remember our  Battersea Showroom is open Monday – Friday,  so you can come on in and try on the dresses you like (just book in advance HERE)…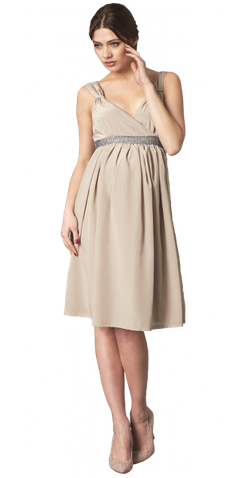 Crave Maternity – Champagne Maternity Dress for only £49 – (Retail: £160)
Crave Maternity have designed some absolutely stunning maternity evening dresses. With a beautiful sequin panel and soft champagne tone,  the Champagne Maternity Dress is both practical and elegant. The fabric effortlessly drapes over the baby bump in a way that you remain comfortable at all times. The cut of the dress is very flattering: the mid-length of this maternity dress is very classic and the empire waist under the bust draws the eye to the waist. This is a festive party must!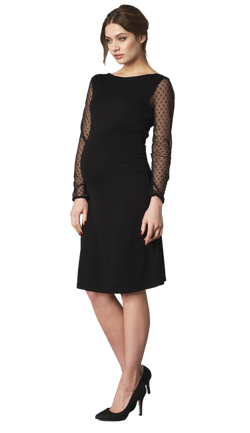 Crave Maternity – Sheer Spot Maternity Dress for only £39 – (Retail: £90)
The Sheer Spot Maternity Dress by Crave Maternity is another favourite of the Girl Meets Dress team! This evening dress is sophisticated and simple with sheer sleeves and spot mesh that create a seductive quality. The body con style is extremely flattering, whilst the slight ruching makes room for a growing bump. Throw together with a gold necklace and a pair of black heels and your ready to go!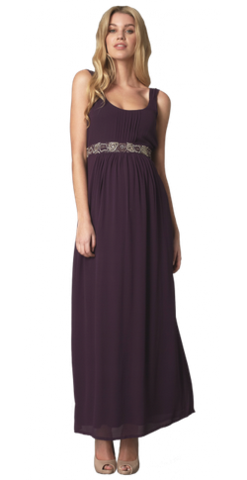 Crave Maternity – Purple Maternity Dress for only £49 – (Retail: £150)
The Purple Maternity Dress by Crave Maternity is a stunning floor-length maternity dress that achieves effortless elegance. The elegant silhouette of the gathered skirt is balanced by the feminine scoop neckline and wide straps. The glamorous embellishment on the waistband pulls you in at the waist and makes sure that your figure is flattered. This maternity dress is perfect for you to kick off the festive season when you are expecting!
---