Meghan Markle, Prince Harry's new girlfriend, is the latest talk in the press right now. She has been seen in various gorgeous dresses. We have seen her in all the top designer dresses, in many different styles. So why not be inspired by Meghan Markle's dress choice and hire a dress from us! This blog will feature many dresses worn by Meghan Markle and our recommendations so you can hire dresses just like hers!
Get the Meghan Markle look at Girl Meets Dress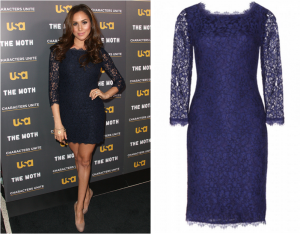 The picture on the left is Meghan Markle wearing the Diane Von Furstenberg, Zarita dress in Navy. On the right is the same dress which you can hire from Girl Meets Dress. This Diana Von Furstenberg dress is perfect for a wedding, a dinner date, a party and many more occasions. You can hire this which was the dress that Meghan Markle wore. 
Get the Meghan Markle look at Girl Meets Dress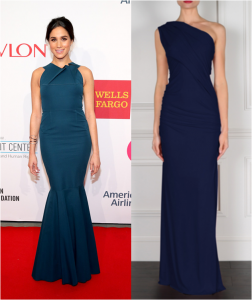 Another gorgeous look by Meghan Markle, as she is spotted on the red carpet in a floor length blue gown. On Girl Meets Dress we have a similar floor length blue gown. Why not hire the dress on the right from Girl Meets Dress – this is the Bailey Maxi dress by Gorgeous Couture? This navy dress is beautifully constructed and perfect for any formal event that you have coming up!
Get the Meghan Markle look at Girl Meets Dress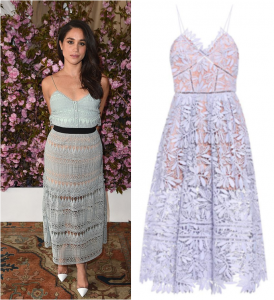 Who doesn't love Self Portrait dresses? Self Portrait dresses are definitely the dresses to have at the moment! We have seen various celebrities in the Self Portrait dresses. Meghan Markle looked gorgeous in this Blue Self Portrait dress. Here at Girl Meets Dress you can hire Self Portrait dresses for any event you may have!
Get the Meghan Markle look at Girl Meets Dress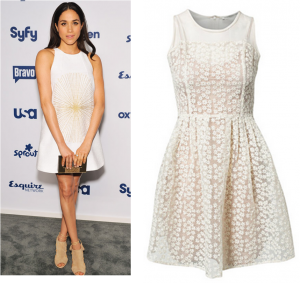 Stand out at your next event in White! Meghan Markle dazzled in this white mini dress. Hire the FWSS, Shuffle Cream Dress!
We do next day delivery or same day delivery if you live in London, for all orders placed before 1pm, so its not too late to hire dresses of your dreams!
If you need any suggestions or styling advice for any event, email: Enquries@girlmeetsdress.com
Remember you can also book a London showroom appointment by emailing: showroom@girlmeetsdress.com
Follow us on:
---