So it's one of the coldest weeks of the year in the UK, due to what the news has labelled the 'beast from the east!' As a result of this, the UK has been plagued with snow, which has caused major disruption to our daily lives, even so as people have been rushing to the supermarket and emptying the shelves of bread. With those who can get to work, the key is about dressing warmly and I know that the last thing on your mind ladies is to wear a dress, let alone hire a dress to wear for work, but paired with tights and the right boots or shoes, you'll be dressing for success and here at Girl Meets Dress, we have composed a list of dresses for you to hire that you can wear even though there is this so called 'beast from the east.'
See by Chloe – Textured Dress
Hire this long sleeved navy dress by See by Chloe to embrace your inner a preppiness. The ribbed style is finished with shirt-style detailing, peeking out as a collar and cuffs.  This long sleeved navy dress is a perfect dress to rent for the office and buy black tights to pair with brown brogues, you'll have a winning outfit.
McQ Alexander McQueen – Fringe Peplum Dress
Rent this navy peplum dress with frayed edges by Alexander McQueen for that foolproof office dress; whether you have meetings throughout the day or just have to look professional at your workplace, this navy dress is conservative yet fashionable. Buy black tights to pair with knee high black boots and you're guaranteed to get compliments. Form-fitting design with a rounded neckline and crafted from a stretch material.
M Missoni – Open Back Sweater Dress
Hire this pink metallic-knit with a sultry scoop open back by M Missoni for a casual yet fabulous look. Wear this loose style with a golden statement necklace and rose-toned ballerina pumps for a fresh spin on classic sophistication. Pair with nude ankle boots and of course buy black tights  for a sassy-chic cocktail style.
Sonia Rykiel – Apples Velour Dress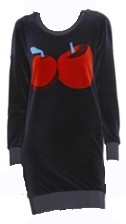 Hire is long sleeved navy mini dress by Sonia Rykiel is a versatile look and is great for day or night.  Buy black tights and team up with sneakers or suede navy ankle boots to jazz it up.
Alice + Olivia – Sarah Mini Dress
Rent this black long sleeved mini dress by Alice + Olivia to make a statement at your next event and show them that no beast from the east will stop you from being glam. The jacquard skirt of this black long sleeved mini dress by Alice + Olivia is a real showstopper . In flocked metallic sliver, it demands attention and shines under any light. The fitted black top keeps the piece grounded, with a body-conscious finish that contrasts the A-line bottom. Keep hair and make-up simple to let it shine. Buy black tights and team up with suede black ankle boots to complete the look.
MiH Jeans – Protest Denim Dress
Rent this denim pinafore dress from MiH Jeans  and team it up with a white chunky cable knit turtle neck for an ultra toasty ensemble. Finish the look off by buying knit tights and wearing brown tassel moccasins.
For those who live in London, Girl Meets Dress offers same day delivery, for all orders placed before 1pm, so its not too late to hire dresses of your dreams!
For all our other UK and European customers, we offer next day delivery for all orders placed before 1pm.
With Girl Meets Dress, you can now rent the runway, as the dresses you see on the Girl Meets Dress website, are always fresh off the catwalk.
Do you have lots of events to attend each month and want to wear a new designer dress each time? Why not become a Girl Meets Dress member?
If you need any suggestions or styling advice for any event, email: Enquiries@girlmeetsdress.com
Remember you can also book a Girl Meets Dress, London showroom appointment by emailing: showroom@girlmeetsdress.com
Follow us on:
Snapchat: GirlMeetsDress
---