Win tickets to Alice's Adventures Underground show
Girl Meets Dress brings you the chance to win tickets to the hit immersive 'Theatre Extravaganza' (STYLIST), Alice's Adventures Underground.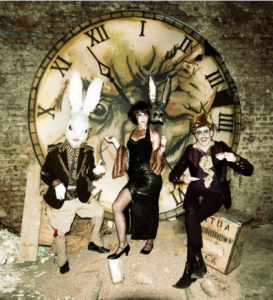 Returning after a sell-out run in 2015, the critically acclaimed theatre company, Les Enfant Terribles, in collaboration with ebp, invite you to fall deep into The Vaults, hidden beneath Waterloo station.
With even more twists and turns for 2017 it's time to lose yourself in a land far removed from your own. Tumble down the rabbit hole falling fast into Wonderland and experience immersion like never before in this interactive, puppetry-packed, fusion of storytelling, music, circus and spectacle…but this isn't Alice's adventure, it's yours…
Make a series of choices; Eat or drink? Grow or Shrink? And find yourself at the centre of the story as you wander through Wonderland, piecing together the puzzle as to what has happened to Alice who is lost in the looking glass. But be careful! Your choice determines your path.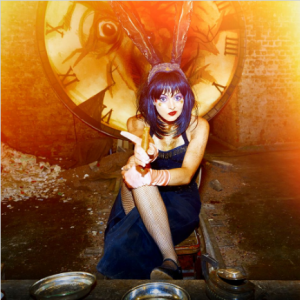 You might grow to enormous proportions and become one of Wonderland's elite, rubbing shoulders with the highest of playing card suits…or you might shrink to be so small that even boarder control can't detect you! Take tea at the biggest un-birthday party with the maddest of Hatters, let the Cheshire Cat take you hither or thither and find yourself playing a key part in an underground resistance movement to rise against the fearsome Queen.
Don't be late! Logic will fail you. Nonsense will overwhelm you!
The clock is ticking. So what are you waiting for? Enter our competition now! 
Either go on our 

Facebook 

page to like and share the post

Or go on our 

Twitter 

page to follow us and retweet the post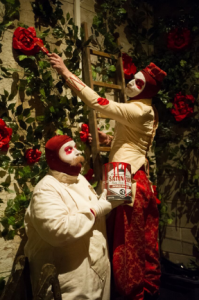 Follow them on their social channels
Twitter – Facebook – Instagram
Tickets start from £26.50
Upgrade to a premium ticket and receive a frabjous tea party cocktail, an Alice programme, one of the Queen's edible treats and another cocktail in the Wonderland Bar after the show. 

Show Dates: 15th April-23rd September
Venue: The Vaults, Waterloo
URL: alice-underground.com
Follow us on our social media:
Facebook – Instagram – Twitter
Snapchat: GirlmeetsdressS
Posted March 16th, 2017 in
Competitions
. Tagged:
Alice in Wonderland
,
Alice's Adventures Underground competition
,
competition
,
Designer dresses
,
Dress Hire
,
Dresses
,
Girl Meets Dress
,
Hire dresses
,
Show competition
,
Theater
,
theater competition
.