Girl Meets Dress has partnered with the Country Living Magazine to offer you 10 pairs of tickets for the Country Living Spring Fair that will take place at the Alexandra Palace from the 27th to the 30th April.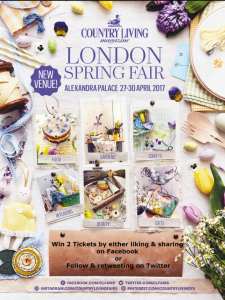 NEW VENUE – This year the 2017 Country Living Magazine Spring Fair sees lots of exciting developments, with more entertainment, more exhibitors, more talented craftspeople, more hands-on workshops and a new venue as it welcomes visitors to Alexandra Palace.
Dates: Thursday 27 th to Sunday 30 th April 2017
Venue: Alexandra Palace (Great Hall via Palm Court) London N22 7AY
Tube Stations: Muswell Hill & Wood Green – with courtesy shuttle bus
The Country Living Spring Fair gives you the opportunity to participate with a friend to crafting and cooking activities, to learn tips and tricks on gardening in the Garden Theatre, to take a break at the Tea Room or at the Champagne Bar and even pet some animals at the Real Farm Holiday while staying in London.
Bringing the pages of the magazine to life, The Country Living Spring Fair champions craftspeople and small businesses, rural entrepreneurs and inspirational start-ups. Carefully curated, this delightful event celebrates quality and creativity with furnishings and fabrics, beautiful ceramics, fashion and home accessories and more, all designed to inspire visitors for the warm days of spring and summer ahead. Experts in sewing, floristry, homemaking skills and crafting offer new ideas, hands-on sessions and lifestyle tips for the home and the garden.
There is a dedicated cookery theatre too; a food market brimming with regional producers as well as bars for refreshments.
Tea, Champagne and VIP Treatment Take a moment for refreshments at the Fair with teas and infusions in the Birchall Tea Room or a glass of fizz in the Country Living Drunken Duck Champagne Bar to make the day something special. Why not consider the VIP ticket that includes a goody bag, fast-track entry, cloakroom where you can leave your purchases and an exclusive lounge area.
To enter the competition either:
Go on our Facebook page. Like and share the post on the competition
Go on our Twitter. Like and retweet our tweet on the competition
Go on our Instagram. Like the picture on the competition and tag some friends you want to go with
Do both to get more chances to win.
Follow the Country Living Magazine UK:
Facebook / Twitter  / Instagram
NEW! Snapchat: GirlmeetsdressS
READER OFFERÂ – 25% OFF TICKETS TO THIS EVENT
We are thrilled that Girlmeetsdress.com can also offer a special discunt on purchased tickets to this event – for the special price of ÂŁ13.50 instead of paying ÂŁ18 on the door.  (A ÂŁ1.50 booking fee applies per booking.)   Tickets can be booked online at www.countrylivingfair.com or via the ticket line at 0844 581 1385 quoting the dedicated code SM4.
---