Guest Stylist at Girl Meets Dress: Alex Gorton
This weeks Guest Stylist pick on the@Girlmeetsdress  blog is from Alex Gorton co-founder of  Wear & Where.  Natasha and Alex have  been friends and journalists for over a decade. The fashionable duo bonded whilst working at InStyle an created the blog Wear & Where. Alex and Natasha have worked for Glamour, Red, Brides, Easy Living, Vogue, The Telegraph, The FT and The Guardian and are both mothers, writers and style enthusiats. Girl Meets Dress were happy Alex could spare some time for a quick style Q&A… Enjoy.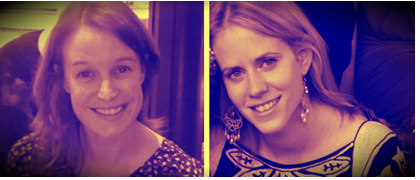 How would you describe your style?
Relaxed with a slightly quirky edge
What are your fashion loves, and your hates?
I love patterned trousers – just adore them. Whether they're crops for the summer, patterned jeans or harem-esq pyjama style, I can't get enough of them. I also love dress coats and long cardigans.
I don't 'hate' fashions on other people, but I really can't stand wrap dresses for me. They feel so wrong. Also I'm not a huge fan of cap sleeves (yuck) or ribbed polo necks (shudder). Anything too tight or too booby is also a no-no.
What's the most loved item in your wardrobe?
Hmm hard one as I love things for different reasons. My most loved – and worn – item is a pair of light grey jeans. So worn they're now ripped at the knee, which handily works well for the current rip
trend
! They fit beautifully and are just the right colour. I also love pair of harem-esq patterned trousers. Tailored at the ankle and leg, but loose at the top in black with a pattern, they're just so cool and flattering. Then there's my emerald green, Grecian-style Alice Temperley dress which I don't wear that much (it's a serious occasion dress), but is just so extraordinarily beautiful. I also love my (Temperley) wedding dress for the memories associated with it.
What advice would you have for anyone wanting to get into journalism?
So, this is a tricky one as the world of journalism has changed enormously since I started out. Back then (in 2000), the internet hardly existed, interns were paid, budgets were ridiculous and there were magazines being launched all the time. These days online is HUGE and, both Natasha and I believe, is very much the future. Traditional print media is being challenged and it's a hard world for them. With this in mind, I'd recommend that aspiring journalists should set up their own blogs. Very cheap to do and gives you a platform for your work – it also shows future bosses that you have drive to get up and do something. In addition, you should try and build up a portfolio of published work. Write for school/student/local newspapers. Pitch ideas carefully – you're not going to get a commission for Vogue if you've never been published before, but you might get one in a newspaper or online version of a newspaper if you are prepared to write on spec and have a unique idea that hasn't been seen (the holy grail for a commissioning editor). And don't give up. I probably got about 100 rejections before I got my first proper job. It's hard, but it's worth it.
Where do you get your inspiration from?
All over. Stories in newspapers, people I talk to, things I hear on the radio, people I see on the street, conversations I have. Everywhere.
Name one item no journalist should be without?
A computer. If you don't own one – then you need access to one.
What is your favourite SS14 trend?
I'm quite digging the ugly shoe at the moment. I'm sure I'll go off it soon, but at the moment it feels right.
   

You can find out more about Natasha and Alex on their website

Wear and Where

 and by following them using 

@WearandWhereUK

 on twitter