Girl Meets… Bourne & Hollingsworth Buildings, Clerkenwell
We're always on the look out for new interesting and beautiful places to eat, and when we heard about Bourne & Hollingsworth Buildings in Clerkenwell, we knew we had to pay them a visit. A Modern All-day Brasserie and Bar in Clerkenwell, they offer all-day eating and drinking and a 'Bottomless Brunch' with cocktails at the weekend – what's not to love?
When we visited on a Thursday evening, we started in the large bar area, serving the brand's famous cocktails. It was busy and the sofas next to the open fire were filled with after work guests.
After tasting a couple of delicious choices from the cocktail menu, we were led through to the 70-cover restaurant and greenhouse that's filled with cane garden furniture, hanging baskets, fully grown trees and trailing creepers.
The food menu was varied and there was lots to choose from. Both the steak and the braised beef in wine sauce were fantastic and highly recommended.
The service here was also great and there was always a member of staff in close proximity to bring us what we needed.
We found the B&H Building greenhouse buzzing but relaxing in perfect measures and the space really comfortable to be in. This is a versatile venue that would be suited for either a weekday dinner, a date, or taking a large group of a celebration of weekend brunch.
We'll definitely be back to try the eggs and bloody Mary on a rainy Sunday!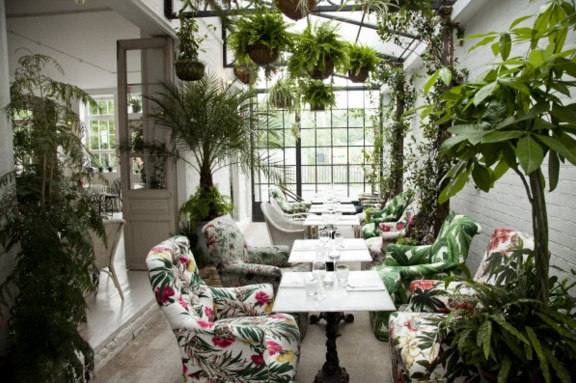 Bourne & Hollingsworth Buildings, 42 Northampton Road, Clerkenwell, EC1R 0HU. Nearest station: Farringdon or Angel. The weekend brunch parties run from 10am-4pm on Saturday and Sunday. For more information, visit the Bourne & Hollingsworth buildings website.
Posted January 31st, 2016 in
Trend
.