Our Top Sequin Dresses
So it's the 1st of October and winter is officially rolling in. The summer dresses are being packed away and the woollen tights and solid boots are seeing their first, but definitely not their last, outing of the year. Â It is quite literally, dark times, for your wardrobe. However it is not all doom and gloom Girl Meets Dress have the perfect solution to brighten up even the worst of the winter blues .
Sequin dresses are the perfect antidote to the dull winter weather, bold and playful they make perfect party dresses and will help you shine this winter. We're big fans of sequin dresses here at GMD and lots of our latest additions are cheeky sequinned numbers. Â Here we showcase the best of all our sequin dresses from old favourites to those we've recently added you're sure to sparkle in one of these.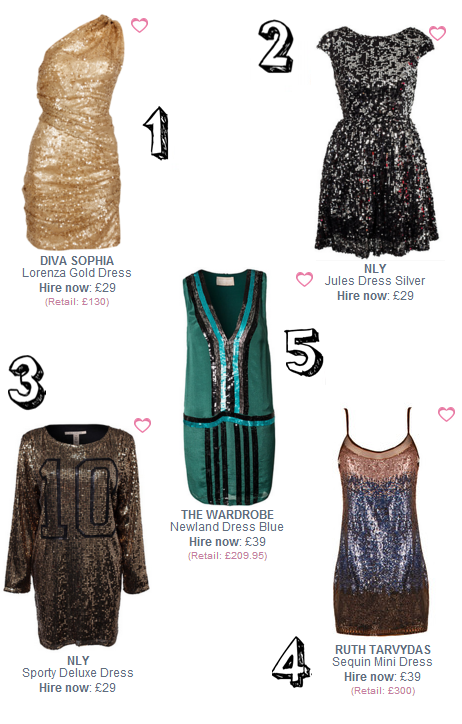 This Gold Sequin Dress by Diva Sophia ticks many a style box with it's classic gold sequins and asymmetric shape. Sequin dresses don't come much more show stopping than this and this dress shows that sequins can be classy and sophisticated whilst still maintaining the perfect level of sparkle.

Whilst the Diva Sophia dress is all about classic elegance this black sequin dress by NLY is the dress for you more playful girls. Its skater style and dramatic plunging back make for a real contrast meaning this dress can be worn for a number of occasions. Pair this sequin dress with statement heels and a smokey eye for playful glamour.

Not all Sequin dresses are party dresses meant for use as full on party dresses as this NLY sequin dress proves. Whilst many of you may think sequinned dresses are just a bit too much for daytime wear this sports luxe NLY dresses would be a great day dress teamed with wedge trainers and a leather jacket.

If it is party dresses you're after then this Ruth Tarvydas sequin dress is the answer to your pairs. A mini dress with spaghetti straps and a contrasting sequin pattern this cheeky little number is the perfect dress for the festive season. Â The ideal sequin dress for a New Years Eve bash or office Christmas party, they don't come much more glamorous than this!

Sequin Dresses have been a party dress favourite for years and this is clear from the 1920's-esque style of this Blue Sequin Dress from The Wardrobe. This sequin dress will allow you to channel a classic look with added sparkle. The perfect party dress for any themed nights you may be attending over the festive season or for simply channelling the decade of decadence whilst you indulge yourself this winter.
<< BROWSE ALL SEQUIN DRESSES >>
<< BROWSE ALL PARTY DRESSES >>
<< BROWSE OUR WHOLE COLLECTION >>