Top 5 Dresses for Wedding Season
With Spring well under way, the Summer is fast approaching, and it is officially Wedding Season. Weddings are exciting, not only for the bride, but also many others including the mother of the bride, friends, family and bridesmaids dresses. Girl Meets Dress has a Wedding Boutique with dresses and accessories to suit everyone, to ensure that you look suitably dressed for any upcoming weddings you might have.
It's a girl's worst nightmare to turn up to an event wearing the same wedding guest outfit as someone else (especially a wedding with friends and family to impress!). Most people will take to the highstreet to hunt down dresses for weddings at an affordable price – but who needs high street when you can have designer? With a selection of designer dresses that suit every girl's taste, you can't go wrong by finding a dress to rent from Girl Meets Dress.
Over the next few weeks we will feature different blog posts dedicated specifically to different people attending a wedding, from the mother of the bride to the bride herself! So keep your eyes peeled for some inspiration for dresses to wear to a wedding…
But before that, here's some ideas for some summer wedding outfits: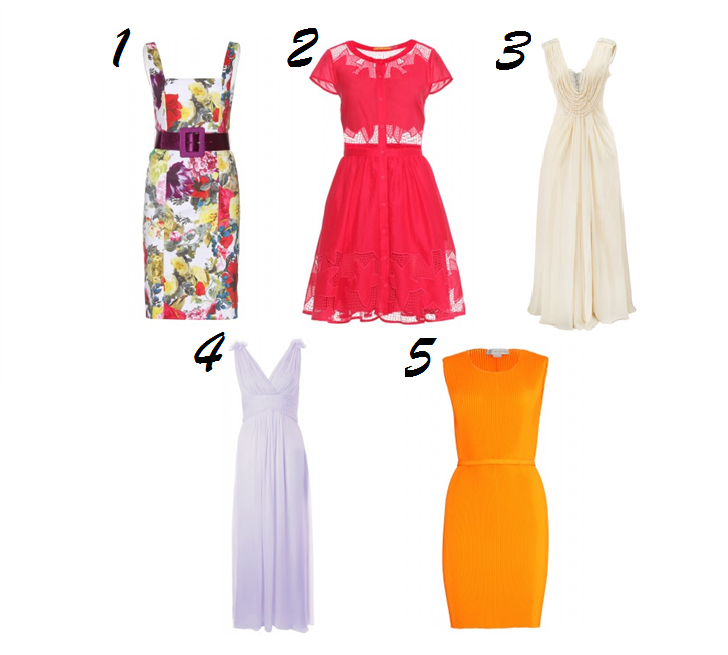 1. For the Mother of the Bride: Alice and Olivia Natalie Belted Dress
This summery floral mother of the bride dress is perfect with a classic cut and flatteringly nipped in at the waist for the perfect hourglass figure. Simple, yet chic, you don't want to upstage your daughter after all! – As worn by Made In Chelsea star, Fran Newman-Young.
2. For the Wedding Guest: Alice and Olivia Papina Dress
Wedding guests have a hard job – they've got to find a dress that is impressive though still not too much, all while leaving a good impression! This Alice and Olivia dress is perfect because of the block bright colour for summer, adding interest with mesh inserts – wedding guest outfits don't have to be boring!
3. For the Bride: Elliot Claire Cream Toned Gown
This wedding dress by Elliot Claire is a traditional ivory colour, with beautiful embellished detail at the front, and an interesting cut at the back – a bride can look gorgeous without breaking the bank! We have a few unexpected wedding dresses at GMD, including lace wedding dresses, so why not take a look for some wedding ideas!
4. For the Bridesmaid: Diva Sophia Una Gown Purple
Traditionally long in length, this bridesmaid dress fits the bill, in a lovely lilac hue, perfect for summer. This celebrity dress was worn by girlband members of The Saturdays at Una Healey's wedding.
5. For the Honeymoon: Stella McCartney Pleated Stitch Dress
Not forgetting the honeymoon when the bride can relax and unwind after the stressful planning of the wedding! Look gorgeous for your husband in this bright bodycon dress by Stella McCartney while sunning yourself in an exotic location!
Posted April 28th, 2014 in
Event Reports
. Tagged:
accessories
,
Bridesmaid Dresses
,
designer
,
Dresses to wear to a Wedding
,
Fashion
,
mother of the bride dresses
,
outfit ideas
,
Rent designer dresses
,
style
,
wedding boutique
,
wedding dresses
,
wedding dresses UK
,
wedding guest outfits
,
wedding ideas
,
wedding season
.