Kate Middleton Inspired Work Wear Dressing
With Kate Middleton set to head back to work we take a look at some of our work wear for hire and job interview dresses for hire as we excitedly anticipate what Kate may wear next.
Kate's work dresses at Royal Appearances and Engagements are always totally on point and she does professional but chic like a pro.  The first Royal Engagement since the birth of her son is the equivalent of a big work meeting or interview. All eyes will be on her and a spot of power dressing is sure to offer confidence.
Press scrutiny will be rife and Kate will surely choose to wear a brand new and rather special item for her first step back into 'working' life. For those of who have high pressure meetings but without the princess budget then hiring a work outfit is the perfect solution; all of the pizzazz and less of the price. Here are some of our favourite pieces to tick the 'dressing for a job interview' box or offer you a big meeting confidence boost. Kate, if you need us – we're here.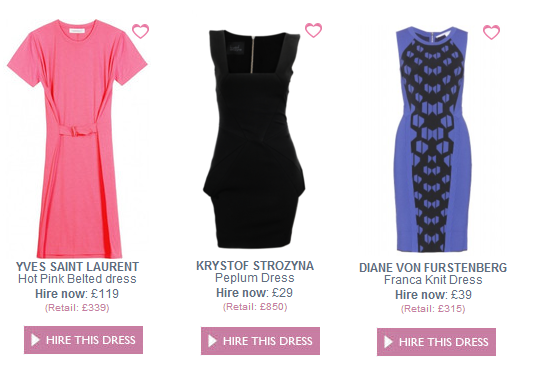 Thought you couldn't have fun with work wear? Think again, GMD make it easy for you to adhere to office dress codes and provide solutions to the 'what does smart casual mean?!' dilemma and this YSL dress is a prime example.  Sensible length, modest neckline and a bright colour make this the perfect piece of summer office wear.
Sometimes when a big meeting or job interview calls a new outfit is needed. You're there to impress and want to look your best but it's also a one-time thing and your special interview dress may never see the light of day again, this is why hiring a dress for an interview or hiring a dress for a meeting is the ideal solution. Confused over what to wear to an interview or what to wear to a meeting? Then an office appropriate LBD is the way to go. Simple but classic this Krystof Strozyna peplum is sure to get you hired!
Few designers do dresses like Diane and Miss Von Furstenberg's Franca Knit Dress is power dressing at its finest. A flattering geometric pattern and bold colour tick the boxes for fashionable work wear whilst the neck and hemlines are once again spot on with office dress codes.
Want to emulate K-Mid and do designer work wear on a budget? Then check out our range of interview and meeting dresses to hire and you'll be queen of the office in no time.