Girl Meets Dress and iChoc Collaboration
Girl Meets Dress has team up with iChoc to offer you their delicious vegan friendly chocolate. Each time you hire a dress from us, you will either get their Jungle Bites or Sunny Almond flavour. Who doesn't love a free chocolate bar, especially in this festive season?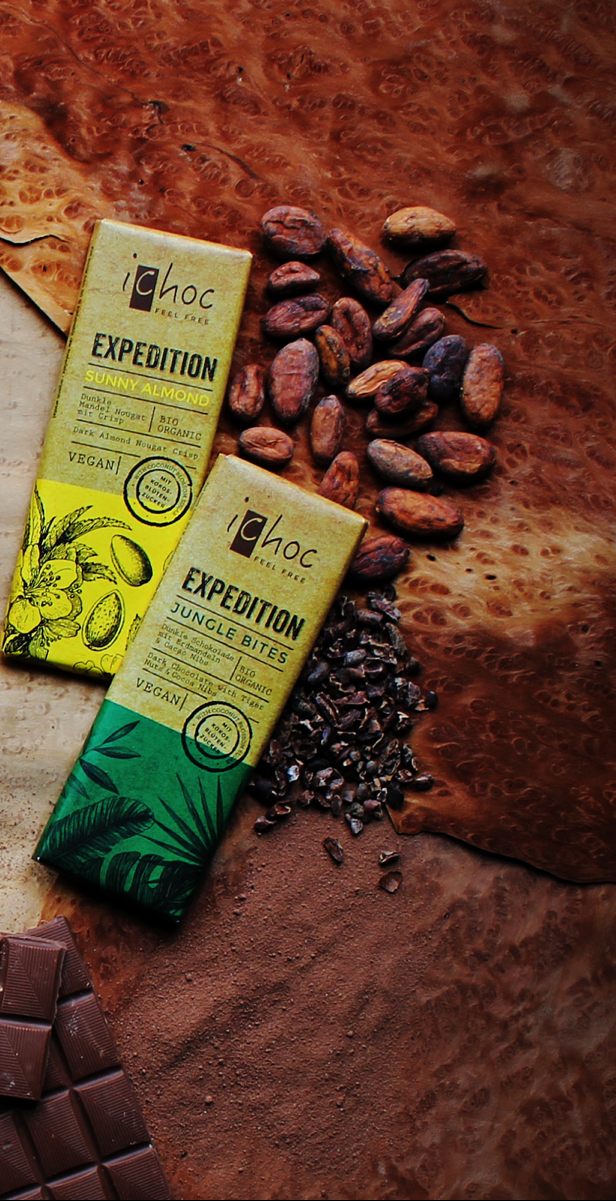 The idea for iChoc was actually relatively simple, and it very quickly became clear what it stood for: vegan chocoholics should no longer have to suffer, vegans wanted a chocolate that tastes like milk chocolate, a chocolate which helps to you to revive an 'old flame'. The vegan way of living should no longer be a limitation, instead it should open up a world of new alternatives.
Until recently, this was not the case: many vegans ended up regretting their lifestyle choice, as it limited the chocolate they could eat, and they generally had to resort to eating dark chocolate. This meant that those who were not fans of dark chocolate either had to learn to like it, or go without chocolate completely. That's easier said than done:
Chocolate is a considerable contributing factor to our quality of life!
iChoc is setting out to change things. Our range consists exclusively of products which take the classic concept of 'milk chocolate', and reinvent it using recipes that are free of animal products. We want vegans to be able to experience those moments of happiness again – and they hope that by devoting the necessary love and attention to their chocolate, they will successfully achieve this.
iChoc organic chocolate is manufactured in the Weinrich factory, located in Herford in the Westphalia region of Germany. A factory steeped in tradition, which celebrates the art of chocolate production since 1895.
Only carefully selected, organically-grown raw materials are used in the manufacturing process and they deliberately refrain from using emulsifiers and artificial flavourings. Their chocolates are produced "from bean to bar" on a highest level of quality.
Check out their website for more information.
We do next day delivery or same day delivery if you live in London, for all orders placed before 1pm, so its not too late to hire dresses of your dreams!
If you need any suggestions or styling advice for any event, email: Enquries@girlmeetsdress.com
Remember you can also book a London showroom appointment by emailing: showroom@girlmeetsdress.com
Posted December 18th, 2017 in
Partner
. Tagged:
designer dress hire
,
Designer dresses
,
Dress Hire
,
dress of the week
,
Dresses
,
Evening Dresses
,
Fashion
,
free organic chocolate
,
free organic food sample
,
Girl Meets Dress
,
girl meets dress collaboration
,
Girl Meets Dress Collaboration with iChoc
,
GMD
,
hire a dress
,
hire celebrity dresses
,
hire cocktail dresses
,
hire designer dresses
,
Hire dresses
,
iChoc
,
long dresses
,
organic chocolate
,
party dresses
,
party dresses uk
,
rent a dress
,
rent celebrity dresses
,
Rent designer dresses
,
rent dresses
,
Vegan friendly chocolate
,
vegan friendly food
,
vegan friendly snacks
.