Black Lace Evening Dresses: Halloween
Girls, Halloween is exactly two weeks away and it is time to start thinking about that outfit. Whether you are  a saint or sinner, we have a huge variety of stunning evening dresses that will complete your look.
At Girl Meets Dress we just love lace, in fact we can't get enough of it. It is the perfect material for a look that is dark, seductive and elegant. There is nothing out there that beats a fabulous black lace evening dress. Luckily for you, we have over 4000 dresses from over 1500 designers, including a huge variety of black lace evening dresses that you can rent for the night.
If you want a floor-length, mid-length or mini – we have a stunning collection of black lace evening dresses that would make both Wednesday and Morticia green with envy. Since Halloween is just around the corner we have selected our absolute favourite black lace evening dresses that are appropriate for any event, whether your partying the night away or trick-or-treating.

It simple – order up to three  black lace evening dresses and you will get fully refunded for anything returned and unworn! You can even come to our lovely Battersea showroom, just book your appointment HERE, oh and you get a free beauty goody bag.
ORDER NOW AND GET 30% OFF ALL BLACK HALLOWEEN DRESSES WITH CODE: HALLOWEEN14
 (Your event must be between 27th October- 3rd November)
Alice and Olivia Chantilly Lace Peplum Dress – for only £59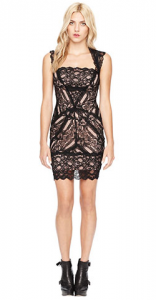 Nicole Miller Eva Lace Dress Black – for only £49 (Retail: £300)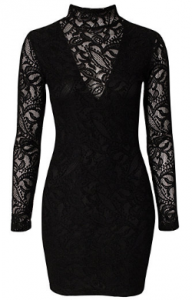 Pearl Collared Lace Dress Black – for only £39 (Retail: £150)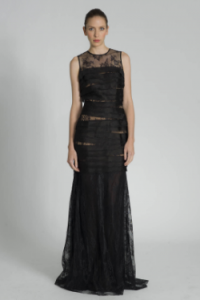 Carmen Marc Valvo Sleeveless Lace Shutter Gown – for only £109 (Retail: £795)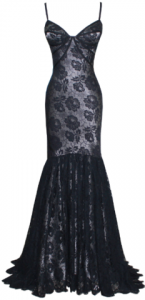 Dina Bar-El Louise – for only £109 (Retail: 700)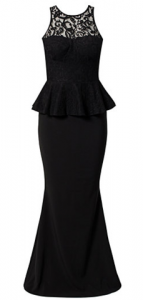 Jarlo Pia Dress – for only £79