GMD Guide: 4th July in London

Girl Meets Dress know that being seen at the right event in the right outfit is imporant! That's why GMD have created our own weekly guide of things to do in our amazing city… London. Every Week we will choose our top 3 event picks for you to explore. This guide is our very special editon to the blog so to make sure you don't miss our picks subscibe to our newsletter to get all the information straight to your inbox! Here are our top picks for you to explore with an added 4th July event especialy for you… Enjoy
1- Frank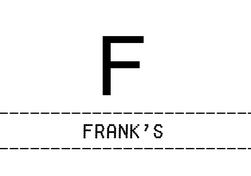 The rumours have been true! GMD can confirm the highly anitcipated re-opening of Frank's Café is happening!! the unique rooftop bar opens it's doors to customers from the 6th June 2014. The bar has an open air & cosmopolitan vibe that is quinessentially the epitomie of summer in London. Once you have tested their new cocktail menu and soaked up the panaramic views of the city you can unwind with the house menu with tasty treats from Buffalo chicken wings & blue cheese crème fraiche to Jerk chicken thighs with sweetcorn salsa and potato salad. Frank's is definatly the one of London's best kept secrets!
Love Magnum? Selfridges have opened up an exclusive popup where you create our own personalised ice cream! ever wanted more sprinkles or more chocolate on your icecream?Well at selfridges Magnum have gone one step further, as well as teh usual toppings now you can also add rose petals, marshmallows and chilli flakes! when you have finished you customisation you even get a pretty little box to display your masterpiece, The GMD team are heading down to get ours before they are all gone. Until August 30, opening hours same a Selfridges. 400 Oxford Street, London, W1A 1AB.
3- FLAMINGO PIER

The Counter Cafe in Hackney are celerating the 4th of July in style! With an LA themed evening  of special cocktails, great food and live music! Why not transfrom your regular friday night into a fun evening out, this event is only £5 so just turn up from 6pm and be ready for an all American extravaganza.
Posted July 4th, 2014 in
Celebrities in Girl Meets Dress
,
Features
,
Uncategorized
. Tagged:
Frank's Café
,
Girl Meets Dress
,
GMD
,
london
,
Magnum
,
Selfridges
,
The Counter Cafe
,
What to do in London
.