Heading towards the Altar: Bridesmaid Dresses
Girls, the Wedding Blog Awards are just around the corner! So in the spirit of 'For the Bride', the team at Girl Meets Dress have selected our favourite bridesmaid dresses for those lucky ladies.
In our opinion, bridesmaids shouldn't outshine the bride – but they definitely should enhance her sparkle. Nobody wants to look back at their wedding photos and think: why do all my bridesmaids look like angry meringues?! I mean we've all seen some horrors, even Katherine Heigl couldn't pull off all 27 dresses…
Whatever your colour scheme or theme, Girl Meets Dress has the answer to your prayers and solution to your nightmares! With over  4,000 dresses and 150 designers we will have something for you! We know how much pressure it is to organise an entire wedding on a strict budget – so you can now hire your bridesmaid dresses rather than buying them. From mid-length dresses to floor-length dresses  – we have many fabulous dresses in all shapes and sizes that will suit every body type.
Below we have narrowed down our elegant bridesmaid dresses to the absolute must haves!
Enjoy and remember to book an appointment at our cosy Battersea showroom – where your bridesmaids can try on your chosen dresses and receive a free goody bag…
For the Romantic and Sunny Location – Short to Mid-length Dresses: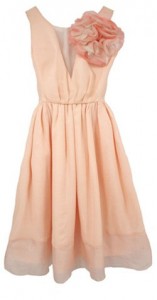 If you are having a George and Amal style ceremony (in a fabulously hot and elegant location) then any of these dresses are the perfect fit for your bridesmaids. The last thing you want is your bridesmaids fainting from heat rather than overwhelming emotion.
Made from silk-organza, the salmon-pink Nina Dress by Jasper Garvida achieves a contemporary approach to the delicate and feminine. The Lacey Dress Coffee by Maids to Measure is fashionable yet classic, with a sophisticated 'vintage' feel. Also made by Maids to Measure is the  Caroline Dress Coral, which is designed for a  fashionable wedding with a slight boho vibe. This style is extremely flattering for all shapes and has an inbuilt chiffon sash which allows you to synch in the waist.
For the Classic and Traditional Location – Full-length Dresses:
If you are having a traditional ceremony then any of these dresses are the perfect fit for your bridesmaids. These beautiful full-length dresses will allow your bridesmaids to channel striking glamour.
Detailed with a delicate lace, scalloped neck line and cap sleeves the Charlotte Satin Gown by Ariella won't fail to impress. Aurelio Costarella's Venus Gown exudes effortless glamour through its contemporary detailing, such as the amazing shoulder ruffle detail. The Una Gown Pink by Diva Sophia comes in variety of pastel shades and the low v back makes it the perfect choice for this special occasion. No wonder it was worn by was worn by The Saturdays for Una Healys wedding!
Posted October 9th, 2014 in
Designer Close-Up
,
Features
,
Uncategorized
. Tagged:
Bridesmaid dress
,
bridesmaid dress hire
,
Bridesmaid Dresses
,
bridesmaid dresses cheap
,
bridesmaid dresses to hire
,
Bridesmaid dresses UK
,
Bridesmaids dresses
,
bridesmaids dresses uk
,
cream bridesmaid dresses
,
girls bridesmaid dresses
,
hire bridesmaid dresses
,
pink bridesmaid dresses
,
purple bridesmaid dresses
,
silver bridesmaid dresses
.