GMD's Guide: What to Wear to a Wedding
Wedding season is in full swing and the  Girl Meets Dress team  have selected our favourite wedding guest dresses. Finding what to wear to a wedding can be a struggle  but our specially selected collection of exclusive dresses for weddings are perfect to hire as wedding guest outfits. GMD have a large collection from midi length dresses to maxi dresses for weddings. Girl Meets Dress are here to help you look your best on the special day…so here are our picks for dresses to wear to a wedding.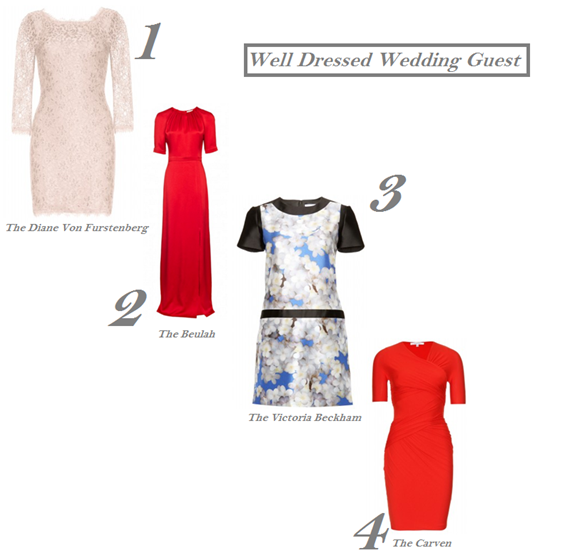 1-Â DIANE VON FURSTENBERG/ Zarita Lace Dress Pink
This beautiful lace dress is perfect for a summer wedding,
the lace skirt falls just to the knee and the cropped sleeves add a cute edge to the dress
2-Â BEULAHÂ / Red Painted Lady
This dress is made for the spotlight,
the long flowing fabric and vibrant red hue together
make this a dress perfect to hire if you want to stand out.
3-Â Â VICTORIA BECKHAMÂ / Photo Print Dress
This dress is a Victoria Beckham classic!,
the bold print and sport lux cut create a dress perefct for any occasion.
4- Â Â CARVENÂ / Red Draped Dress
This Carven dress is simple and chic, the sophisticated wrap detailing and cut are perfect for a summer event
Follow us on twitter at  

@girlmeetsdress

 and keep up to date with our 

Instagram
exclusive offers and competitions.