Ball Gowns: Myths and Facts about dressing for your age
Ball gowns are tricky. There are so many different styles and colours that it's hard to chose. Certain styles can make you look frumpy whilst others can wash you out with their sombre colours. Here, GMD takes you through the top ball gowns to rent for your age.
Teens
Myth: A long gown will make you look like your mum
Truth: Wearing something daring like a long dress will highlight your maturity as a young lady
Maxi dresses have been a staple item in our closets for a while now – only this time we're revamping them. Prom dresses don't have to be short, after all, how often do you get to walk around in a lovely long ball gown? Take the opportunity to stand out from your friends! Length will elongate you, giving the illusion of model-high legs, and will turn you from sweet 16 to a beautiful young lady. Bonnie Wright has been known to wear numerous long ball gowns on the red carpet, teaming them with fun accessories. Rent the strapless Ariella Catherine Gown – a beautiful choice, whilst the Gorgeous Couture Ida Dress will show your flirty side with a thigh split. Or sparkle in our Forever Unique Lowri Maxi Dress.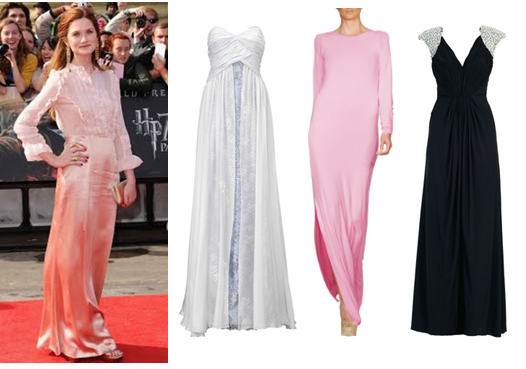 20-30
Myth: Bright colours make you look like you're trying to hold onto your teenage years
Truth: Summer 2013 is all about colour – no matter what your age
When it comes to hiring ball gowns not everyone has to follow the black tie rules. A special event calls for an even more special colour – don't go safe! The fashion trends are dripping with colour this summer, we're especially fond of hot pink, cobalt blue and zesty orange. Michelle Williams isn't afraid to experiment with colour, she often chooses bolder choices when appearing on the red carpet. Ariella's Elizabeth Gown is flirty and fun and a great choice of our ball gowns to rent. The Nicole Miller Riley Gown in Cobalt will turn heads for all the right reasons whilst the Elliot Claire Yellow Pleated Gown will highlight your figure.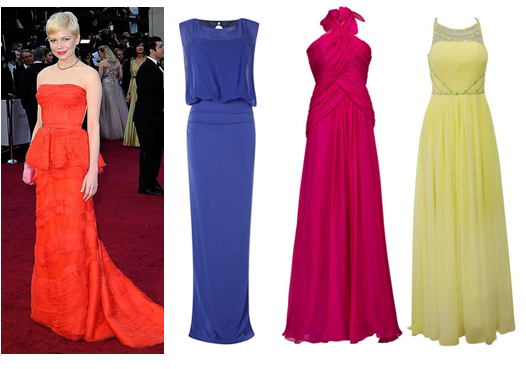 40+
Myth: Women of a certain age should cover up
Truth: Show some skin and unveil your glamorous side.
If we've learnt anything over the last few years it's that boundaries are meant to be pushed. Long gone are the days where women are told to cover up and not to draw attention to themselves. Take Helen Mirren for example – known not only for her incredible talent but for her quirky, and often controversial, style. Only last month Helen wore stripper heels to the premier of Red 2 (she's also dyed her hair pink and proudly displayed her body in a two-piece bikini on holiday). Our Dynasty Margaery Gown is a vision in pink whilst our Elliot Claire Jewelled Silver Gown mixes up shapes with it's one shoulder detail. Ariella is always great for gowns and we think the Lena Gown is perfect for showing off your collar bone and shoulders.