GMD Prom Week Special
Day two of  PROM WEEK and Girl Meets Dress have a dress and hair war for you. Deciding which hairstyle best suits your long prom dress or short prom dress can be a struggle but Girl Meets Dress are here to help you with your prom inspiration… Girl Meets Dress have an exclusive collection of prom dresses from the UK , with specially selected collections of dresses to suit every event. Today's hot topic for PROM WEEK is deciding which hairstyles go best with different prom dresss. Today's war is between The Cute & Short Up Do and The Long & Elegant Look… Enjoy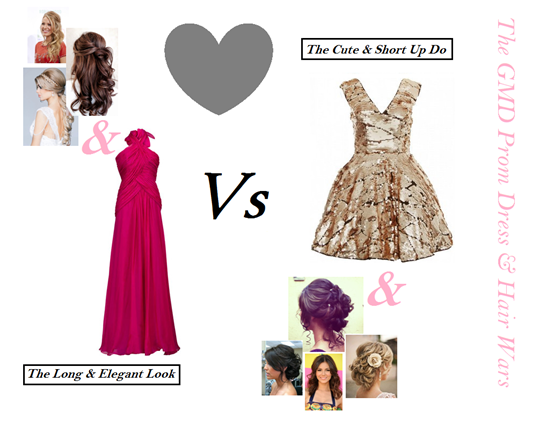 Style muse: Think Taylor Swift  meet Eva Longoria=cute and sultry
This OPULENCE ENGLAND Gold Sequin gown is sure to make you shine on your big day. The beautiful gold crackle effect creates an interesting focal point to the dress and also reflects flecks of  light making it a selfie must have! The dress is cute and the cut is just above the knee making it a statment piece, your hairstyle therefore should be kept to an elegant and sleek up do to not detract from the dress,adding a small flower or hair pearls can add a nice touch in place of statement jewellry.
Style muse:Â nicole scherzinger
This beautiful  ARIELLA Elizabeth Gown is perfect for a prom queen, the vibrant fuschia hue instantly transforms the dress into a s/s14 must have. The long flowing fabric cascades to the floor creating a lovely silhouette. This dress is a show stopper but the high neck brings the attention to around the neckline so opting for a soft half up half down hairsytle will create the perfect balance. Think elegant curls and soft plaits to maintain an elegant and chic look.
Follow us on twitter at  

@girlmeetsdress

 and keep up to date with our 

Instagram
exclusive offers and competitions.