NEW SAMPLES: 4160 Tuesdays
Just when you thought it couldn't get any better we introduce a whole new perfume from 4160 Tuesdays inside your order box! Coming this week to every customer who rents a dress, an 8ml sample of 4160 Tuesdays Urura's Tokyo Café !
4160 Tuesdays scents are created by indie perfumer Sarah McCartney, handmade and bottled by the small team at their Acton workshop.
In 2012, Sarah launched three fragrances at Les Senteurs and on her website. Now there's a range, all with their own stories and reasons for being. Sarah also makes bespoke perfumes, and runs scent appreciation sessions at her London workshop.
The amazing Urura's Tokyo Cafe is a floral fruity oriental scent of warm spring breeze blowing through blossom.  You'll smell citrus top notes – pink grapefruit and tangerine – deep warm opoponax, tolu balsam, and raspberry jam at the base, rose, violet and woods at its heart, but all blended so smoothly that it's hard to separate them.
View the full range at www.4160Tuesdays.com
Twitter @4160Tuesdays
Facebook www.facebook.com/4160Tuesdays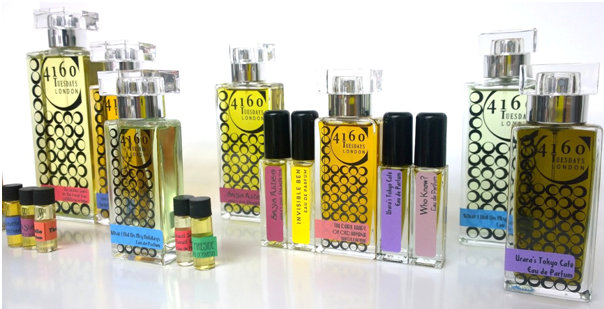 Posted September 22nd, 2014 in
Features
.