Honeymoon Outfits: Long Evening Dresses
So your wedding day is over but every bride knows the  next big event in every brides calender is their honeymoon, At Girl Meets Dress we have your honeymoon outfits covered with a wide variety of evening dresses,bags and jewellry to hire. Whether you are looking for day dresses or evening dresses, Girl Meets Dress is your one stop shop for everything you need for the perfect honeymoon with a large colletion of evening dresses from the UK avalible online.  At Girl Meets Dress we understand that being well dressed on your honeymoon is important, so we have found our favourite long evevning dresses  for you to wear on your honeymoon.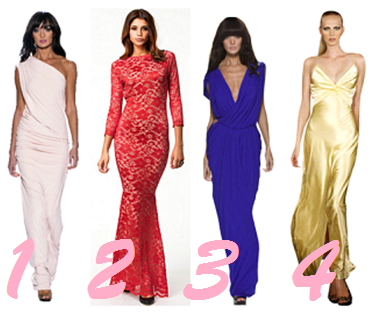 1- Â Â GORGEOUS COUTUREÂ / The Bailey Maxi Blush
This blush dress is perfect for a summer event or honeymoon get away, with its grecian wrap style and floor length skirt it would make the perfect dress to shine in.
2-Â Â HONOR GOLDÂ / Faye Maxi Dress Red
This lace red Honor Gold dress has a romanitc style with its fishtail skirt and sleeve detail adding a sophisticated touch.
3-Â Â GORGEOUS COUTUREÂ / Harlow Maxi Dress
This deep blue dress is chic and fun, the grecian style draping creates an incredibe silhouette.
4-Â RUTH TARVYDASÂ / Cute
This dress is a show stopper with it's gold hue and light fabric, it would be the perfect hire for a newbride wanting to be the belle of the ball.
Don't forget to follow us at  @girlmeetsdress and keep up to date with our blog by clicking here
Posted June 6th, 2014 in
Features
. Tagged:
blue dresses
,
evening dress
,
Evening Dresses
,
evening dresses online
,
evening dresses uk
,
evening gowns
,
gold dresses
,
Gorgeous Couture
,
hire a dress
,
honeymoon
,
honor gold
,
long evening dresses
,
red dresses
,
Ruth Tarvydas
,
wedding
,
white dresses
.