Girl Meets Dress Wedding Boutique: Bridesmaids Edit
At Girl Meets Dress we understand that finding the perfect bridesmaid dress  can be a struggle, however Girl Meets Dress have a large collection of  bridesmaids dresses from the UK including lace bridesmaid dresses  and even purple bridesmaid dresses . We have selected our favourite short and mid length  bridesmaid dresses for you to hire… Enjoy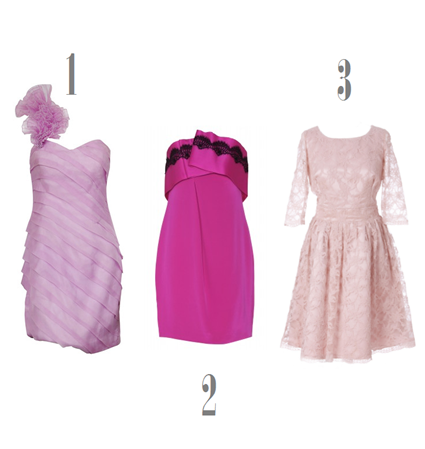 1-Â RUTH TARVYDASÂ / First Kiss
This dress is beautiful with it's full-tiered body and a ruffle-embellished shoulder, Ruth Tarvyda's lilac dress  has playful edge that is  perfect for a spring/summer wedding. Go for all-out elegance with nude patent pumps and dazzling crystal earrings.
2-Â MARCHESA NOTTEÂ / Fuchsia Strapless Dress
This Marchesa Notte  dress is perfect with it's delicate black lace trim,
Hire this as a bridesmaids dress for a head-turning take on vintage Hollywood glamour.
3-Â Â MAIDS TO MEASUREÂ / Lacey Dress Pink
This Maids To Measure  dress is fashionable yet classic!
The short, satin with lace overlay creates a 'vintage' feel.
The round neck,fitted waist and gathered skirt make it the perfect bridesmaids dress.
Posted July 11th, 2014 in
Features
. Tagged:
Bridesmaid Dresses
,
bridesmaid dresses to rent
,
Bridesmaids dresses from the UK
,
lace bridesmaid dresses
,
long dresses
,
maids to measure
,
Marchesa Notte
,
Pink dress
,
purple bridesmaid dresses
,
rent bridesmaid dresses
,
Ruth Tarvydas
,
short dresses
.